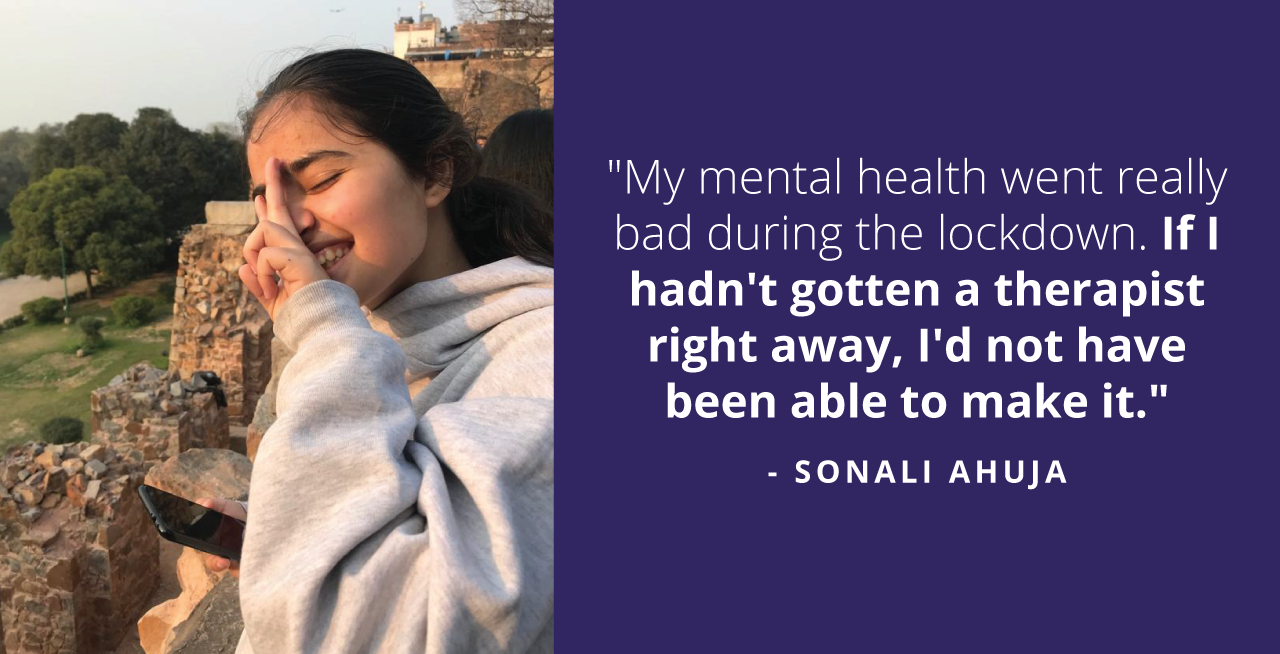 An artist's heart with the sense of self awareness one could aspire for – This is how we would describe Sonali Ahuja. This 20-year-old has lived her life through rainbows and sunshine, under the caring shelter of her grandparents and supportive parents. Though Sonali calls herself an extremely self-aware and cautious person, she encountered another side of her personality when the Covid-19 pandemic struck.
"I have always lived in Delhi and even did my higher studies from here. Though I love my academic field, the lockdown and online classes made me out of touch and miserable."
Sonali started getting frustrated to a point where her thoughts were reflecting in her behaviour. Constant frustration, agitation, and irritation were even seen by her parents. Pursuing her career in an extremely challenging field, she recalled her experience with the entrance exams.
"I lost both of my grandfathers, who were extremely close to me, in 2017 and couldn't properly grieve. Soon after the pressure of 12th grade and entrances made me go into a depressive episode"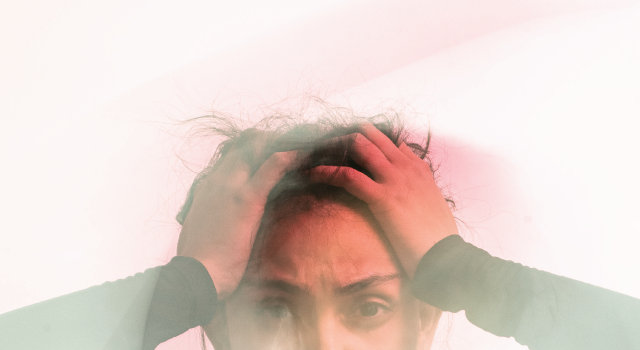 Upon realising how bad her mental state had become in 12th grade, Sonali decided to seek counselling for a little while but couldn't keep up with it. So, during the lockdown when she started experiencing similar distress, she decided to reach out and seek help. She had started noticing that she didn't just have anxiety, but also hyperactivity, little to no focus, poor memory, mood swings etc. She would end up acting rude with her parents every now and then which was unusual for her. From the outside, she seemed irritated but on the inside, she felt numb and had thousands of emotions at the same time. 
"I was already under a lot of stress, and my university decided to club two semesters' exams. This was the moment I broke down and knew I needed help immediately."
Sonali was adamant to keep her anxiety and stress at bay and she recalled that YourDOST was her university's emotional wellness partner. Without wasting any more time, she decided to reach out to one of the counselors. YourDOST's confidentiality and reliability are what caught her eye and on top of this, she even organised and took part in the orientation of YourDOST services to her batch.
Sonali got in touch with Annabel, a counselor from YourDOST. With Annabel, she could finally express herself without putting in much effort or filters. Sonali's biggest enlightenment came with her diagnosis of anxiety and the idea that her other symptoms may be that of ADHD. Sonali's ship of self awareness had sailed.
ADHD is one of the most common neurodevelopmental disorders of childhood. It is usually first diagnosed in childhood and often lasts for life. Children with ADHD may have trouble paying attention, controlling impulsive behaviours (may act without thinking about what the result will be), or have hyperactivity. Adults with ADHD, especially women, are severely underdiagnosed due to the lack of research and awareness.
Sonali was suggested certain techniques to deal with her constant stress and mental breakdowns and she felt like she could bear herself to her therapist without having to think that she is burdening people.
"Annabel practically helped me from going further down. I felt like the techniques were finally working and I was no longer in a mental rut or on autopilot."
Annabel was an active listener and used positive affirmative methods to start with. Then Sonali was taken through a technique called "Pomodoro", where you set a timer for 25 minutes, focus on one task and work on it until time's up. Then you reward yourself with a small break, usually around five minutes. Sonali found more of a friend in Annabel than a counselor which helped her heal with the techniques more effectively. 
"I remember Annabel saying that the kindness and love that you extend to others, you also need to extend the same warmth to yourself. She even told me my degree of self awareness is extremely high, and this genuinely made me happy."
Sonali describes Annabel as a kind, warm and nice person who listens very mindfully. Sonali soon got rid of her self-depreciative humour which was harmful to her and started working on her self-esteem issues. Lucky for her keen self awareness, Sonali saw the new version of herself very soon! She had finally started to love and appreciate herself as an individual. She didn't have to over-explain her issues unlike when she opened up to her friends and family which felt exhausting and laborious.
As YourDOST gets in a conversation with Sonali, we see an evolved, self-loving, and extremely soothing individual, and we couldn't be more proud of her journey!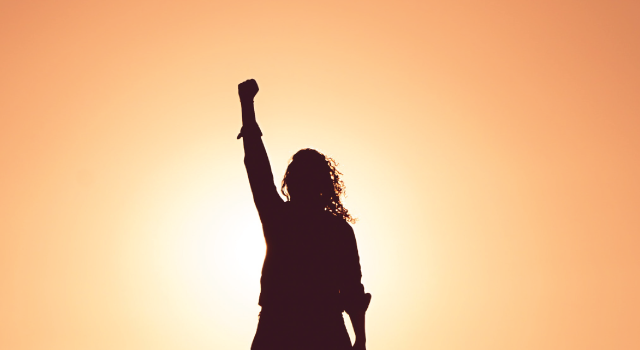 "A therapist isn't there to fix you. They just hold your hand to help you fix yourself. Same as a guide!"
Today, Sonali stands with a braver and wiser zeal as she describes her journey to betterment through counseling a "small but significant and life-saving experience". She rated her progress from stress and anxiety to a confident and kinder person with a solid 3.5 out of 5. 
We at YourDOST appreciate her efforts and feel immense joy to see her improvement. We know she will do wonderful things with such a beautiful soul.
---
Sonali's Warrior Tips:
1. It's understood that it can be very exhausting to go through a mental illness. Also, it is mentally tasking to ask for help. But it is effective. You deserve the love and healing.
2. When you reach breakthroughs and are in a better place, you'll thank yourself for having that two minutes of courage to seek help. I wish everyone could have a therapist to get better.

Are you someone who has gone through a difficult phase and emerged stronger and better, with some professional help? Share your story with us to encourage thousands of others who might be struggling. Click here to submit your story.