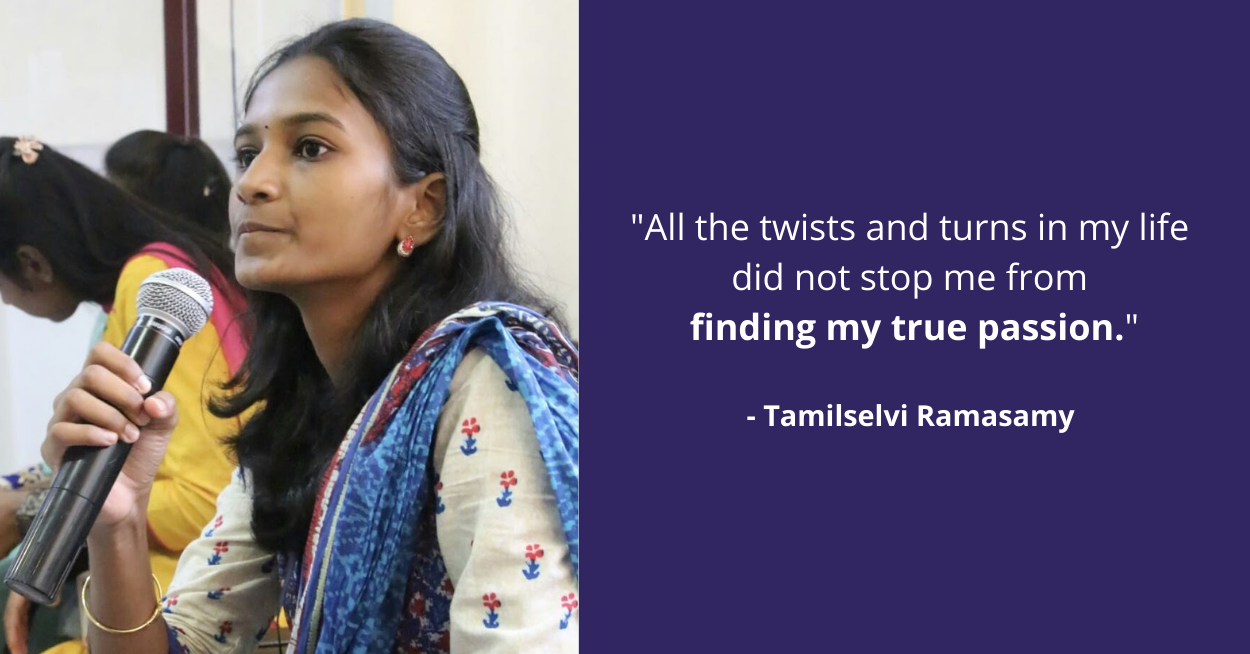 "You need to realise the variance between sunshine and a delusive gleam. You just have to clench to the root to grow taller and glow brighter like a sunflower!"
This inspirational line was written by Tamilselvi Ramasamy, our cheerful and light-hearted member from the Account Management team. After rejecting her well-paying job at Accenture, she decided to join YourDOST to try a different career path from her engineering degree to account management.
"I wanted a job where I could meet new people and this role entailed that. Even though I graduated with an engineering degree, I wanted to work in the field of account management."
It was a simple choice for Tamil because she was well aware of the concept of mental health through her family. She had family members who were going through mental health challenges and were seeking help themselves. This prompted Tamil to open up about a personal incident where she found herself in a helpless and trapped situation.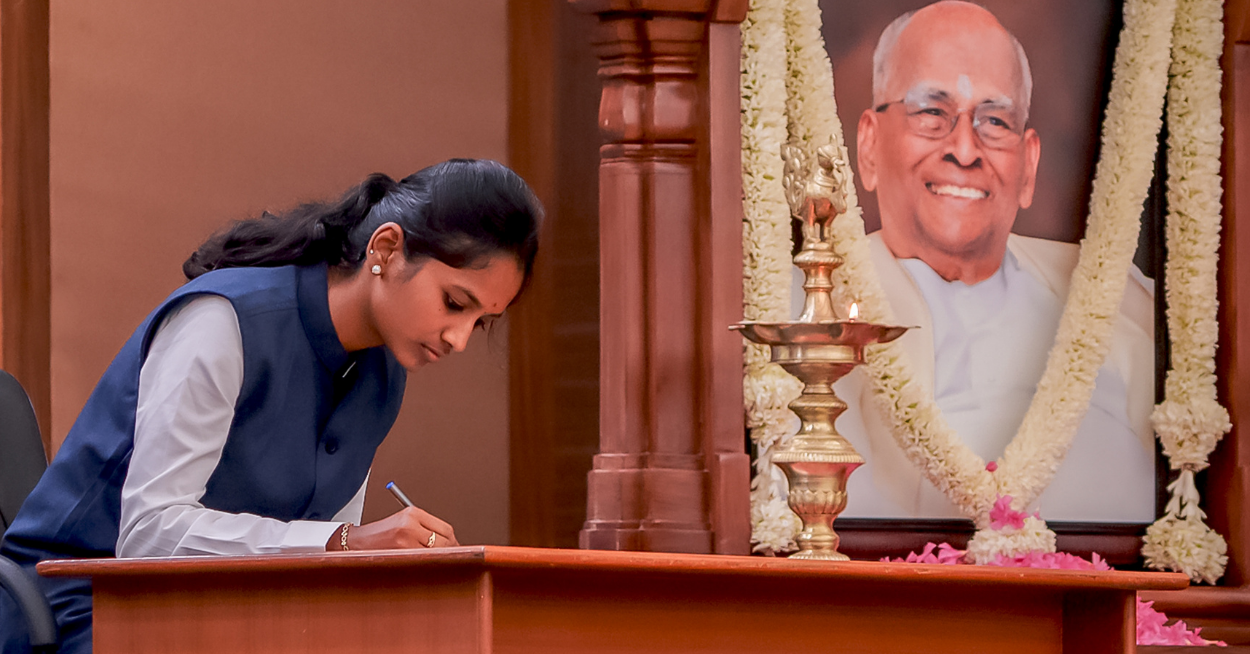 Tamil was helping to cover a friend's romantic relationship. But when Tamil's parents found out and wrongly assumed that she was in the relationship herself, it led to challenges in her personal life and due to this, she was not able to pursue her real goal of studying Architecture, even though she secured the national rank in her entrance exams because her parents lost trust in Tamil. They decided to not send her outside her hometown to study and she decided which led to Tamil to pursue her engineering degree in Coimbatore.
I remember feeling helpless because I did not have the strength to explain this to my parents. I felt like the only way to get out of this was to end my life. It was a heavy burden to bear as I felt like I was accountable to my friend's secret. This incident led to many challenges in my personal life and my education. 
While Tamil was a happy person, she was never suicidal. But this particular incident pushed her into taking an extreme step. After overdosing on eucalyptus oil, a frightened Tamil told her parents and was rushed to the hospital. After some tests and psychiatric sessions, she was discharged and got better.
"This was when I realised how it feels to go through a mental illness. While mine was a spontaneous decision, I felt empathy for many people who were suffering in silence."
Tamil was in search of a challenging job that would push her to learn new skills which was also making an impact on the current situation of mental health in our county. She feels proud representing YourDOST and carries a huge sense of responsibility when talking to the clients. 
"When I joined YourDOST, my managers were very supportive and helpful of my needs. I feel like I have grown in my career way quicker than I would have at a corporate job. My communication skills have improved and I have become more assertive towards the client's needs."
Despite all the hurdles in her life, Tamil is happy where she is right now. Things did not necessarily go the way she planned but she got to explore new career paths. Her parents have become more trusting of her, and she is living an independent life in Bangalore, away from her parents. In the end, her life turned out to be a pleasant one.
All the twists and turns in my life did not stop me from finding a good career and being a part of YourDOST has only made me more assertive and accountable.
Her time at YourDOST has helped her realise that you do not have to be going through a serious mental illness to seek therapy, and she began seeking counselling for her mental well-being.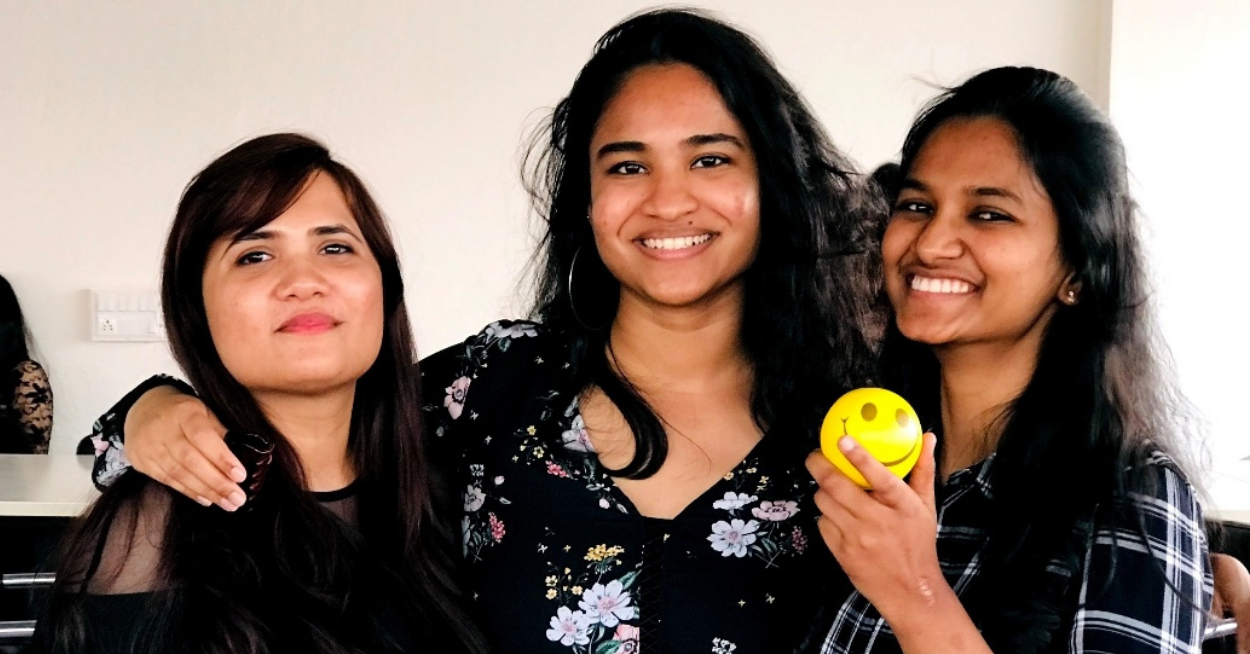 "My expert is amazing, she helps me untangle my thoughts and makes me aware of what I am feeling. It helps me function better everyday, and it feels nice to have someone to listen to you from a whole new perspective."
In the near future, Tamil wants to work in Customer Success Management roles before moving to a Product Management role, and has plans to get into a B school to finish her MBA. We wish her the best for her future endeavors.