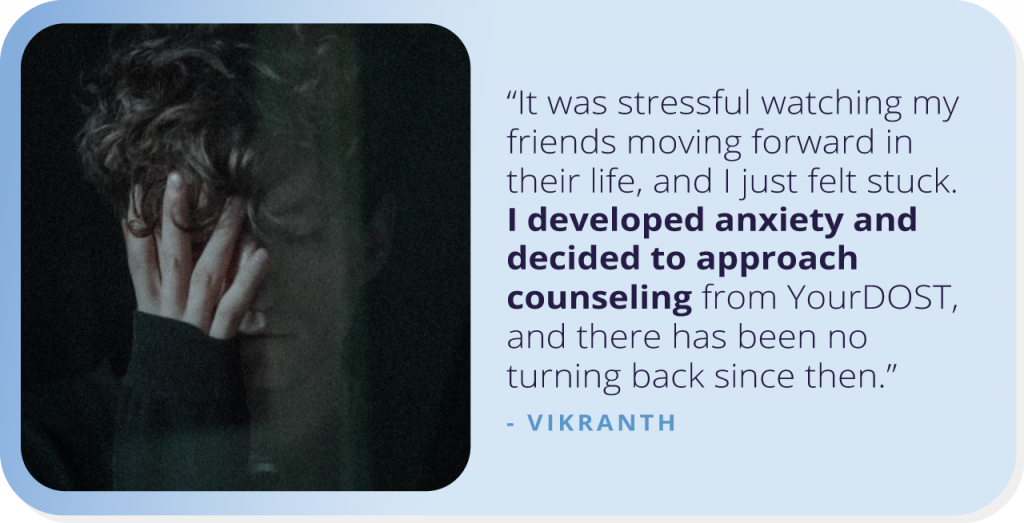 This narrative of our warrior Vikranth accentuates his remarkable journey in his academic life of how he opposed against all odds of academic pressure and positioned himself in a space that he is proud of today.
Vikranth belongs to a close-knit family of four and is based out of Delhi, the proud capital of India. A city that basks in the gloriousness of Mughal architecture and authentic food cuisines that keeps us wanting for more, including that extra Golgappa.
Our lovely warrior is a 23-year-old law student from a National Law University and has a generally cordial relationship with his family members. He is close to his elder brother, with whom he confers his issues from an overall point without getting into the nitty-gritty. It has helped them have a blossoming relationship.
He is pursuing a B.A L.L.B degree, and devotes time to himself by listening to songs and also watching films from time to time.

Vikranth tells us that he was never denied anything by his family and they are progressive in their thinking by nature.
"My family has an open discussion on mental health and its conversations. It has helped me feel present and accepted with the plethora of emotions I go through personally."
He describes his keen interest in the discipline of psychology. He knows the knowledge it consists of and how to handle his emotions.
Well, a student's academic journey comes with multiple responsibilities and gets challenging balancing it all together. This adds pressure and starts affecting the overall engagement in their academics.
Vikranth felt trapped inside the academic pressure that kept building, seeing how most of his friends started acquiring a job in renowned organisations.
"It was around this time my college sent us an email about the services offered at YourDOST with whom they had partnered as our official emotional wellness coach."
Vikranth mentions a massive population of people out there who do not have access to mental health. This is true as the world would be better if people encountered ways to manage their emotions and befriend their demons through therapy.
"I am glad I had that privilege and access to seek therapy with my counselor Ankita these last 5 months. They've worked wonders for me."
Entering therapy is a journey that prioritises progress over process. Giving significance to aspects of self-love and self-care will plummet into bearing happiness in ounces.
"It was important that my therapist and I had to be relatable and also somebody who was empathetic, who understood the concepts and the process and who wasn't just someone with a degree."

Vikranth mentions that some of the techniques Ankita suggested to him are Action and Commitment Therapy, and Rational Emotive Therapy. He was able to actively work through his schedule and dedicate time for himself to perform these techniques.
Change is a process which is the only constant transition, and our warriors' story is that classic example of how patience wins over everything.

We asked Vikranth what would his words of gratitude be for his counselor, and he said:
"Thank you for being patient and encouraging me all through our sessions. Therapy for me was majorly about the exploration of myself and understanding the underlying issue."
In our fast-paced world, it has become a norm to reach the stars and over-achieve even if it means depriving us of our mental health.
Vikranth, on the contrary, was more grounded in his feelings and had his priorities sorted as he chose himself over everything else that caused him anxiety.
"I figured out my issues better and analysed the root cause to approach it. Undoubtedly, this helped me become a focused person, and I am glad I chose therapy as my friend in this journey of self-exploration."
When we asked him how he would rate himself in terms of getting better on a scale of 1-5 he rated himself with a massive 4.

We are elated and proud of the never giving up spirit Vikranth possesses and wish him happiness in abundance.
Vikranth's Warrior Tips:
1."Try to get help in any way you can: certified/reliable online resources, a school counsellor, authoritative self-help materials etc."
2."Not everybody can indeed afford therapy but make it a priority, see if you can afford it by managing other expenses. If not, try to find an alternative."
3."Your first therapist may not always be the best but stay patient and try searching within your circle."
4."Your first therapist may not always be the best but stay patient and try searching within your circle."