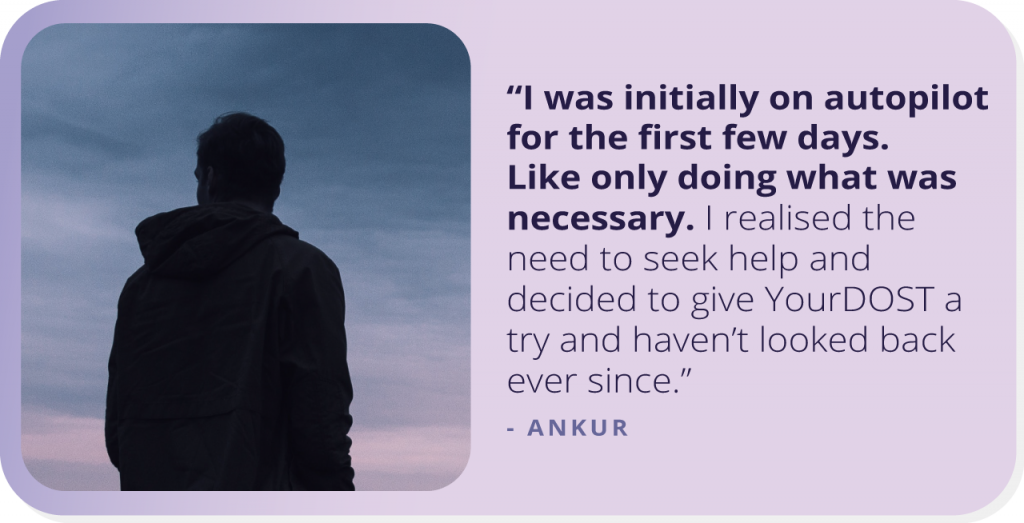 Ankur, our protagonist, enjoys reading and is currently enrolled in his pre-final year of a B.tech in computer science. He had a lovely childhood growing up in Allahabad. Even though he is a little shy, he shares a delightful bond with his parents.
"My childhood was great. It wasn't lavish, but perfect for a middle-class family. I enjoyed everything and would not change anything about it."
But an incident changed Ankur. He dedicated three years of his life to a relationship that ended in a way he could never imagine.
"The breakup shook me completely."
A relationship is like nurturing a flower. We give it everything we have to let it grow and bloom. But one morning we wake up, and everything is dry and lifeless. It goes without saying that it crushes our hearts.

Ankur began to question everything in his life. He lost focus, causing his academics to suffer as well. He attended his classes for the sake of attendance. The lockdown made it worse. He felt lonely. He either scrolled aimlessly on his phone all day or overthought everything and wept.
"Even after the next 6 months of my breakup, I couldn't do much. I knew my college partnered with YourDOST, so I figured why not give it a shot? What's the worst that can happen?"
Ankur had no prior experience with therapy before deciding to try YourDOST. Although he didn't have any adverse views on therapy. But he was sceptical about sharing such intimate details of his life with a stranger.
He wasn't able to commit to the process in the early days. But his perception changed after meeting with his first therapist, Ms. Poulami Sengupta.
"When I started talking to her, things weren't going well. But the entire credit for my decision to continue therapy goes to Poulami. After talking to her and sharing my feelings, I was finally able to make sense of what had happened and found a possible explanation."

Ankur's feelings were acknowledged by Poulami, who supported him in figuring out his emotions and guiding his thoughts. There were various activities and exercises involved in his sessions. Some to understand him and some to help him calm himself down.
"Even now, if I'm feeling anxious, have a hectic schedule, or something terrible has taken over my mind, I do one of the exercises my therapist introduced, which helps me a lot."
After Poulami, Ankur met Nithya Srivastava and she was able to connect with his thoughts instantly. She helped Ankur keep himself together when things appeared to be dark, and he is grateful for that.
Ankur was able to break his insecurities, fears and the shell he had built around himself. He moved on from a lot of things that had happened and was able to open up to his friends and family. He could finally focus on his life once again.


"I have worked on my shyness and noticed a drastic change in myself over the last 6 months. I've been able to open up to many people. I feel college is all about making connections. I've met a lot of interesting folks."
He expresses gratitude to his therapists for empowering him in recognizing the positive aspects of even the worst of events and assuring him that it is okay. Whatever it was, whether it was good or bad, we can learn from it, focus on the positive aspects, and move on.
He rated himself 3.5 out of 5 on his journey towards healing and believes there's a long way to go but he's prepared to face everything life throws at him.
Moving on after calling it quits is difficult but not impossible. Ankur's journey encourages us to focus on ourselves because no one else matters more than we do.

Ankur's Warrior Tips:
1."Focus on the positive side of your journey. Focus on the light."
2."You can't always share every detail of your insecurity with your parents or friends. Give therapy a chance because it'll help."