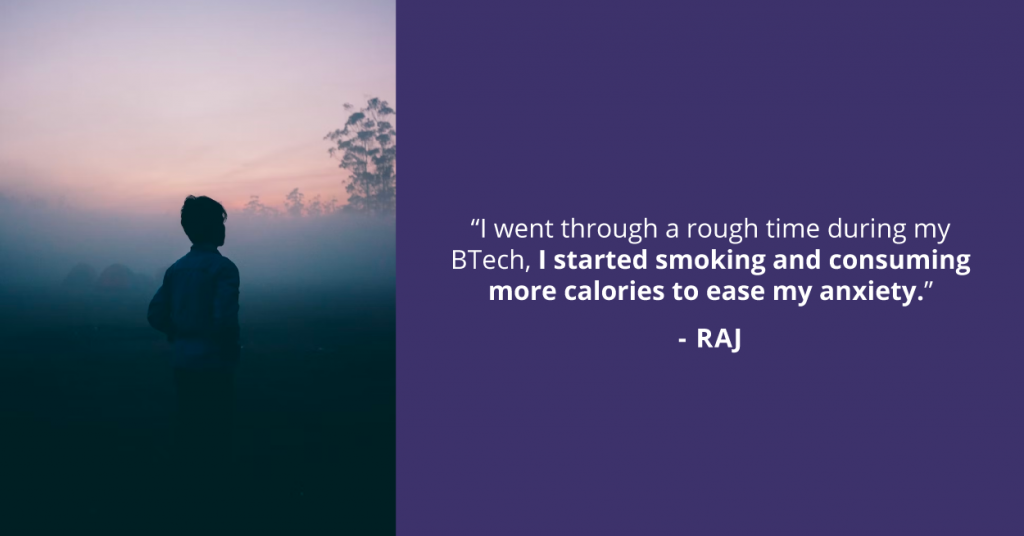 Culturally knitted from different colourful states, Raj Karan Pandey originally belongs to Bihar but was brought up in Gujarat. He completed his BTech from VIT in Tamil Nadu and is currently pursuing his MTech in his field of interest namely Biotechnology. 
He is enthusiastic about trying different activities ranging from sports, designing and animation. He is particularly fond of theatre. 
Things started to get a little out of control during his BTech.
"I have had issues with food, particularly from my childhood and in 2nd year of my BTech I noticed that my focus on studies was reducing."
Problems around food habits have always prevailed around Raj. His relationship with food is tricky and as a young teen, he started consuming more calories than his required intake. This led to an increase in his weight but he realised it soon and began working out. 
Cut to college, he began finding it difficult to juggle between his BTech classes and his theatre practices. Due to odd practising hours, he was often found sleeping in class and missing out on interactions during classes. 
Due to poor concentration and heavy physical exertion, he began smoking as a means of coping with his rising anxiety.
"My family wanted me to become a doctor as I was brilliant academically, however, I chose BTech over Medicine. This came as an academic pressure on me and in my final year BTech, which was in the form of online classes during the lockdown, I found my comfort in food."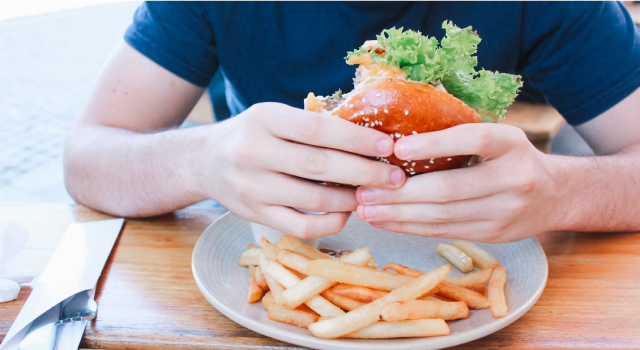 The lockdown period has given birth to extreme stress for many people and among us was Raj himself, trying to keep himself comfortable with food. He again started eating excessively. 
But this time, his old friends, from before college, noticed the change in him and brought it to his notice.
He began worrying about his behaviour and his day-to-day regimen. He seriously began his search for good counselors and landed on YourDOST through his institution's subscription to the platform. 
"This was not my first time at counseling, before YourDOST I was seeking counseling however it did not meet my expectations. So, naturally, I was a little sceptical about the platform as well."
Raj was fairly informed of the therapeutic processes as he had received an education in psychology during his 11th and 12th grades. He began taking video sessions with his counselor and found it slightly beneficial.
At first, he felt quite vulnerable and dragged out of his comfort zone, but gradually he was able to open up to his counselor and continue his sessions pleasantly. 
His counselor recommended techniques that included journaling his thoughts and emotion, to closely observe his trigger points and reasons for smoking. An interesting turn took Raj into believing that he could quit smoking and that for every small milestone he crossed he would receive a badge of achievement. 
"I was well-versed in most of the techniques, but the badges did make it exciting to believe that I can reverse my smoking habits. So, naturally, these techniques have helped me calm down."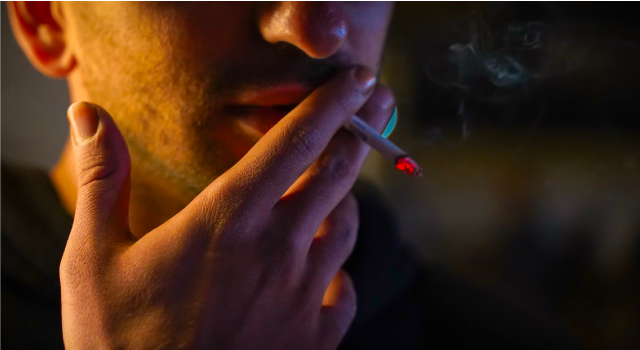 Incorporating these methods into his daily life, Raj found small changes in his behaviour. He saw how organised he had become, in terms of keeping his room tidy along with clearing his thoughts and feelings. 
He learnt how to compartmentalise and prioritise tasks and assignments and he started processing things in a more streamlined way.
While he had his own doubts regarding YourDOST as a platform, he now believes it can help people. This has been a fairly good experience for Raj, he claims.
"My counselor at YourDOST was quite compassionate and helpful, she gave me a fresh perspective towards my problems, a kind that I did not expect in such a short time. I am thankful and apologetic for not being able to continue with the sessions, but for all the times she has helped me, it has made me a slightly better version of myself."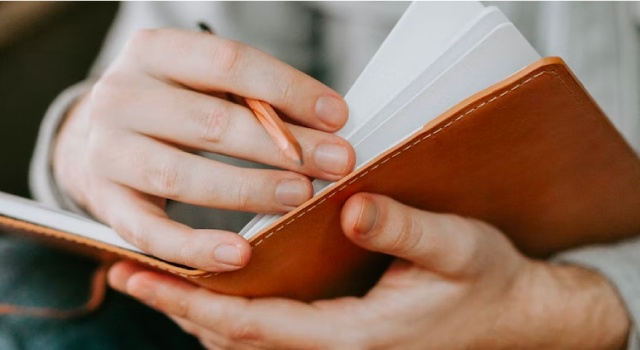 Change is a unique process for everyone and people walk the path at a different paces with time. For Raj, change has been gradual and challenging, but even through all the ups and downs in his journey, he has emerged victorious. 
Today he has a better command over his anxiety and a greater understanding of how healthy and stable he can be in his daily life.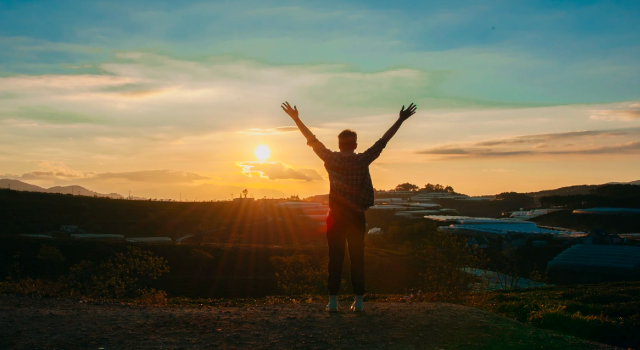 With his newfound confidence, he has rated himself 3 out of 5 in terms of getting better as he believes that personal growth and self-improvement is a long journey at times. 
Raj's Warrior Tips:
1.People will give you "that" look, break away from those if you want to improve yourself.
2. Keep your negative thoughts and feelings in your vision and be honest to yourself.
3. No matter how time-consuming your schedule is, keep a slot of at least 1 hour in the week for your counseling sessions.