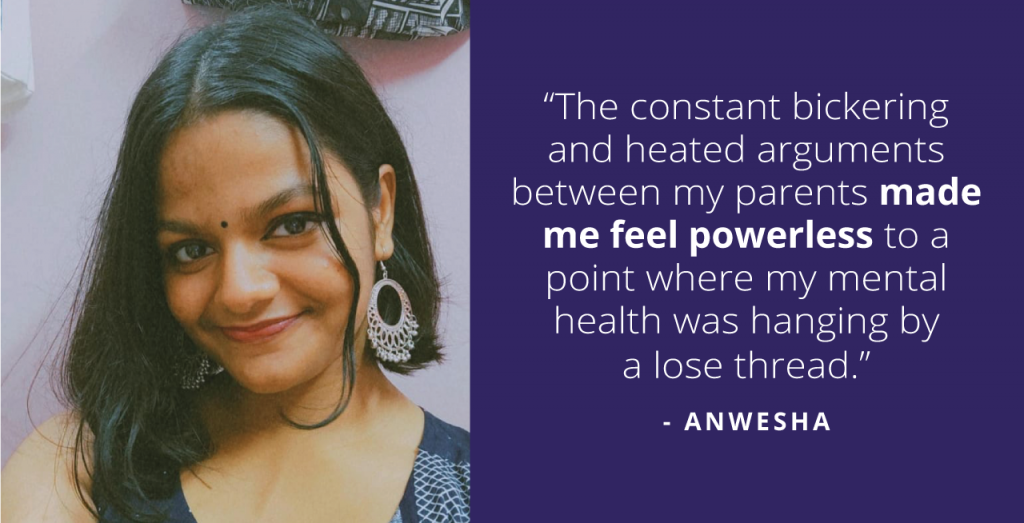 A native of Orissa but born and brought up in Mumbai. Our 20-yr-old Anwesha Mishra is an uncomplicated, outgoing and confident person. She is currently pursuing her BBA-LLB from National Law University Orissa.
Having participated in numerous debates and public speaking events, Anwesha decided to pursue law as her career. Apart from academic interests, she is also a trained Bharatnatyam dancer and a trained student of Hindustani Classical music for 12 and 8 years respectively.
Her self-made father and morally righteous mother are precious treasures and have always bestowed good values on her and her brother.
However, she started noticing a pattern of communication between her parents that had formed affecting her seriously.
"My parents are constantly bickering about things, they usually have heated arguments which are followed by a cold war between them which affects my mental peace."
As a child, Anwesha often found herself powerless in intervening and supporting her mother during such situations. Most of the time it was she and her mother who would get deeply affected by her father's reactions and rigidity to understand the matter. His ego would often come in the way of logically resolving the issue.
She started developing anxiety as a result and started losing focus on her studies. She started losing sleep and most of the nights, she would wake up screaming from a nightmare.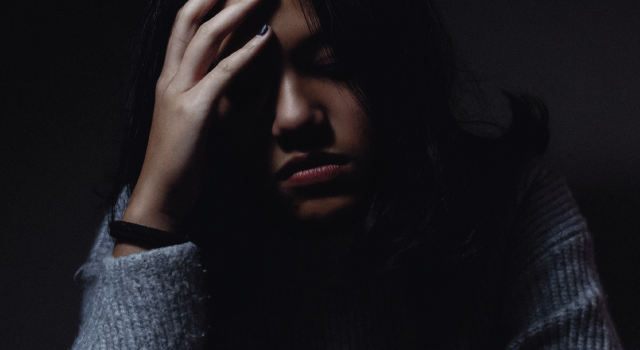 An additional burden on her was to protect her brother from the aftermath of these fights. She did not want her brother to go through this and develop negative feelings towards their parents.
"I could not let the same thing happen to my brother and so I would protect him from all the things going on at home."
Anwesha recalls that she would often get panic attacks and random crying spells for absolutely no reason. She had been depressed for 3-4 months and would often find herself exhausted or unenergetic as opposed to her dynamic nature.
She could not share these problems outside her family. It was a private matter and she was mindful to keep it confidential from friends. With relatives, she could not share much fearing biased judgments from her relatives.
Hence, she had no one to reduce the mounting pressure on her shoulders. Finally, she spoke to a friend of hers who was affiliated with the health and wellness committee in her college. From there she got introduced to YourDOST.
"I got connected with Padmaja Sharma on the platform and it was a life-turning moment for me. I found her when I needed her the most."
Before connecting with the platform, Anwesha had her own share of doubts regarding the therapy process in terms of confiding in a stranger.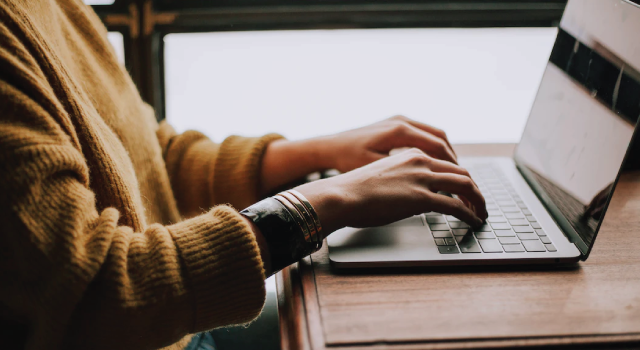 However, she clicked with Padmaja, who was an excellent listener to Anwesha's concerns and she additionally encouraged her to speak to her heart's content.
Anwesha knew she was not looking for remedies to her family issues, but she wanted solutions to work on herself.
In her first few sessions itself, she opened up to Padmaja as expressively as possible.
"I could not understand the feelings that I was experiencing and my counselor made me more self-aware of what I was going through and how I should cope with it."
Numerous techniques were recommended to Anwesha to call her anxiety and improve her sleep cycle.
She was introduced to breathing exercises that would help her during anxiety attacks and journaling for organizing her thoughts and behaviours. She was also encouraged to dive back into her hobbies to divert her attention from these stressful situations.
Upon following these techniques, Anwesha started seeing positive changes in herself. Now she could filter out the negative thoughts and focus on the necessary information in the repetitive cycle of quarrels.
"I was able to think for a few seconds before reacting impulsively over a situation. And I continued to pass on these techniques to my mother to help her in dealing with the heated squabbles at home."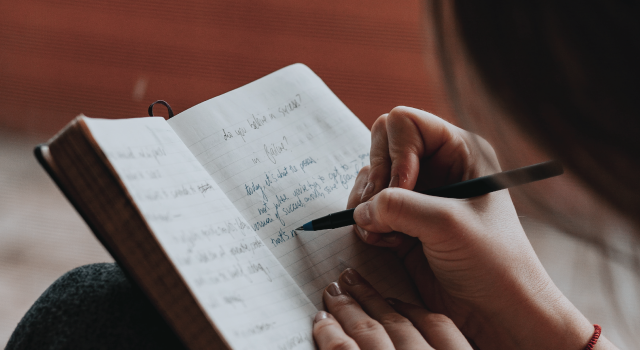 Today, Anwesha has emerged confident in understanding her strengths and weaknesses and is able to hold her ground when dealing with her parents.
She has successfully managed to keep her anger and frustration in control and get a grip on her anxiety with the techniques mentioned above.
She rated herself 3.5 out of 5 in terms of getting better for she believes in the gradual process of improvement and healing. She is confident. She is bold. She is Anwesha!
Anweshas's Warrior Tips:
1.Everyone has underlying problems that need to be addressed before they take a U turn on you.
2.Talk to a counselor, you will feel better and also discover so many things about yourself.
3.Counseling is a journey of self-discovery.