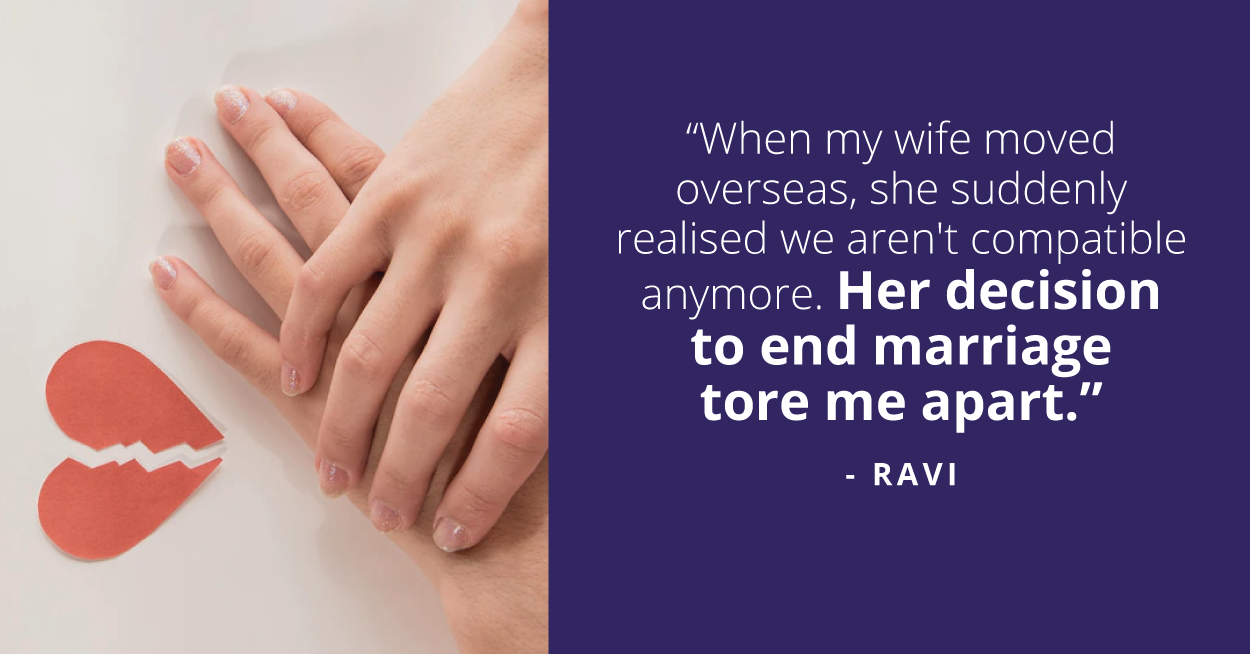 Born and brought up in various parts of India, Ravi currently works at a private company based out of Delhi, NCR. A highly detailed individual with a keen observer's eye, Ravi excels at his current job, where he has worked for over 6 years.
Ravi likes to keep himself busy and believes that he has worked very hard to reach where he is right now. He loves binge-watching and is an avid writer too. Ravi also has his hands-on painting as well, as a part of his hobby. A proud father to a Labrador, Ravi got added a touch of warmth to his life during the lockdown, mainly for the betterment of his mental health.
"I was happily married to my wife and then she moved overseas to pursue her career. But after a couple of months, she told me she wanted to not be with me anymore."
Ravi had a beautiful marriage, where he had always supported and uplifted his wife's goals and dreams. Though, after she moved overseas and suddenly realised their dreams were not aligned, she decided to break the marriage off and asked for a divorce.
Ravi, with his many efforts, tried to convince his wife to move back in with him and not end the marriage but she was not changing her decision. Ravi felt like his life was going on a downward spiral and also thought everything around him was sucking the energy out of him.
"We haven't been divorced yet officially, but we have been living separately since then. I was devastated. I did everything to get her back, but she didnt budge."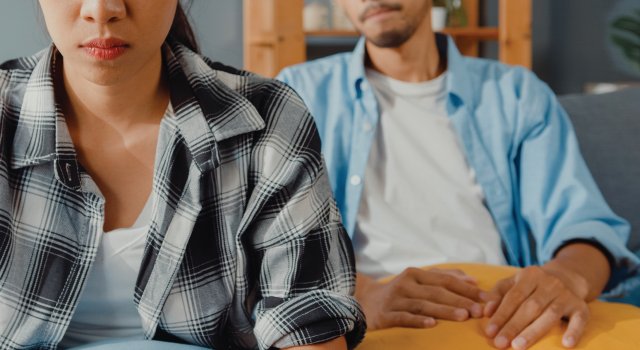 Ravi often found himself sleepless at night. He was constantly looking for ways to improve himself, as his self-doubt was touching the sky.
"There was a point in my life where I began to get suicidal thoughts. My wife used to misbehave with my family members too and it was getting tougher for me to cope with her."
Dark clouds of negativity were surrounding Ravi, almost every day. Questions like "How will I live now?" and "What will people say? What will they think?" were driving Ravi to a point where he didnt even feel like talking with his friends. During this time, he decided to adopt a puppy and nurture him, to feel his mind at peace, and his dog has still been by his side, without judging me, always supporting him!
"I was having trouble sleeping and focusing at work. My family obviously knew about what was happening but they could also help me up to a point. My father was hospitalised after hearing the news, at that point, I had lost all the faith."
Ravi's family and friends were aware of his situation, but unfortunately, nobody could completely relate to him, and hence, there was a lack of professional advice. He knew how to go about things theoretically, all he needed was a practical and actionable approach.
"I remember being quite depressed one day, all alone I could think only of killing myself. I broke down and cried a lot, even my dog got anxious. At that moment, I realised now things have gotten out of hand and I just consult someone."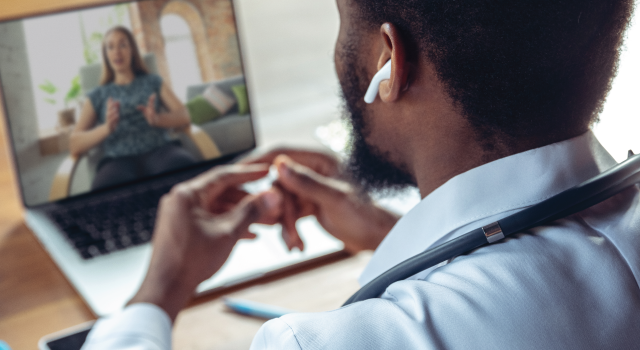 Ravi was introduced to YourDOST through his organisation and decided to get connected with an expert. To fasten his therapy process, he asked the YourDOST platform to pick a counselor based on his concerns and kick-started his sessions.
"I was connected with a counselor via audio and video session and loved how they made me feel comfortable. I was the only one speaking during the first therapy session, it was great."
Ravi had found his safe space and appreciated how the counselor let him voice out his concerns entirely and did not interrupt him throughout the therapy session. He then got connected with another counselor, Rituporna and she guided him through several physical exercises to get back on track.
Ritiporna also guided Ravi with a few breathing techniques and exercises to control his anxiety. He slowly began to live life as earlier, of course, he still doesn't feel entirely out of the trauma of the past but is ready to take on any challenges.
"Therapy gave me another useful trick to allot a worry-time throughout the day and not think about it any other time. I then practised it and realised it's very easy to navigate my worries."
Ravi sees himself from a different perspective now, he feels more at ease and can see many improvements in himself. The divorce hasn't been finalised yet, and Ravi still hopes to be a better version of himself, but therapy has played a major role in making him feel so.
"I eat well now and am physically active too. I believe ill be at my level best within the next 4 to 5 months. I even hang out with my friends now."
Ravi changed his environment and soon saw a shift in his mindset. He extends his gratitude to the counselor and therapy process for "saving him from himself", and from all of us at YourDOST, we wish him all the luck and love! 🙂
---
Ravi's Warrior Tips:
1. The first step might seem difficult, but do reach out to therapists. They can help you out, they know what works best for you.

Are you someone who has gone through a difficult phase and emerged stronger and better, with some professional help? Share your story with us to encourage thousands of others who might be struggling. Click here to submit your story.