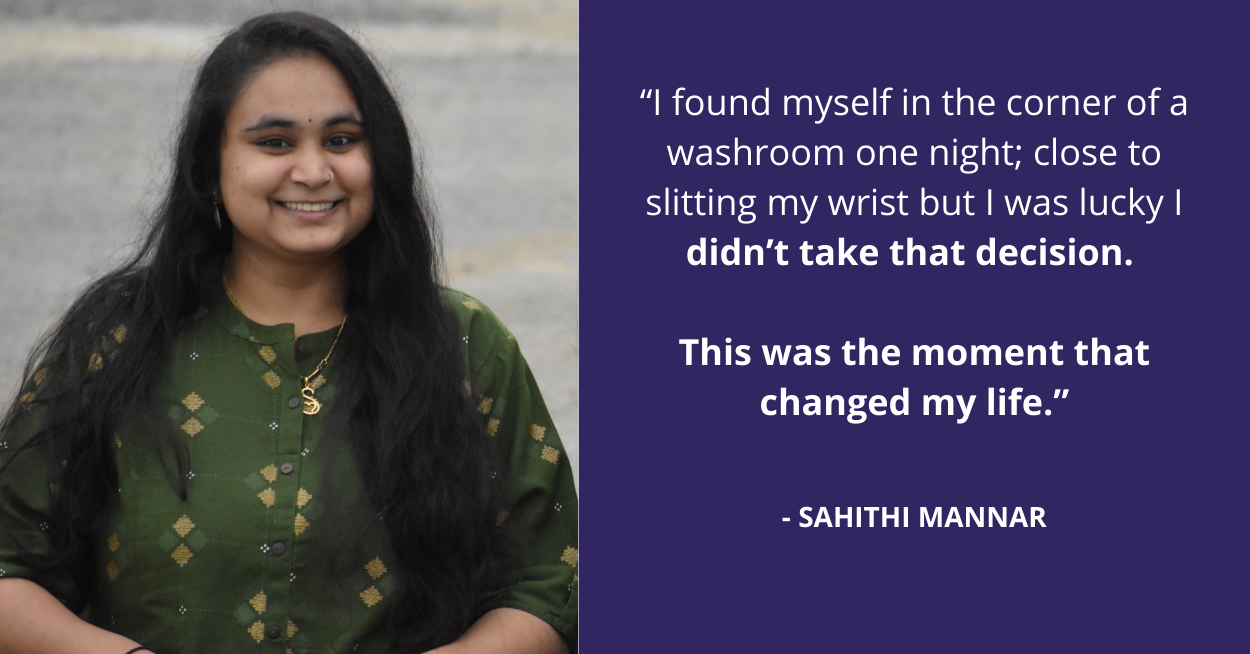 Sahiti is a trained Kuchipudi dancer. She has been training since 2004 and has been performing on stage since she was a child. But certain incidents occurred in Sahithi's life that pushed her away from her passion for dancing.
"I was touched inappropriately by my dance teacher's father. Following that, I was molested by my uncle. When I spoke to my grandmother about the abuse, she blamed me for being fat and curvy."
These incidents in Sahithi's life made her spiral into extreme self-doubt which led to her being diagnosed with anxiety and depression.
"I reached my tipping point when I was molested by my makeup man. I stopped dancing after that. For over a year, I focused on my studies, until my guru called me for a performance. Just before going on stage, I broke down; it hit me that I'd given up what I loved for no fault of mine."
After these experiences, Sahithi's mental health was at its lowest. She was contemplating suicide in the pursuit to end it all.
"I found myself in the corner of a washroom one night; close to slitting my wrist but  I was lucky I didn't take that decision. After this incident, I went to therapy and started taking my medication. This was when I started falling in love with myself."
These incidents in Sahithi's life pushed her into pursuing her second Master's degree – in Clinical Psychology. While she has her Master's in Hospital Administration, she knew that her true calling was in the field of Psychology.
"When we were asked our ambitions as a child, everybody would say, 'astronaut', 'engineer', 'lawyer', but my answer would always be 'mind doctor'. I did not have the vocabulary to spell out 'psychologist' at that age. But with the hustle of getting into university, I ended up doing my Bachelor's in Life Sciences"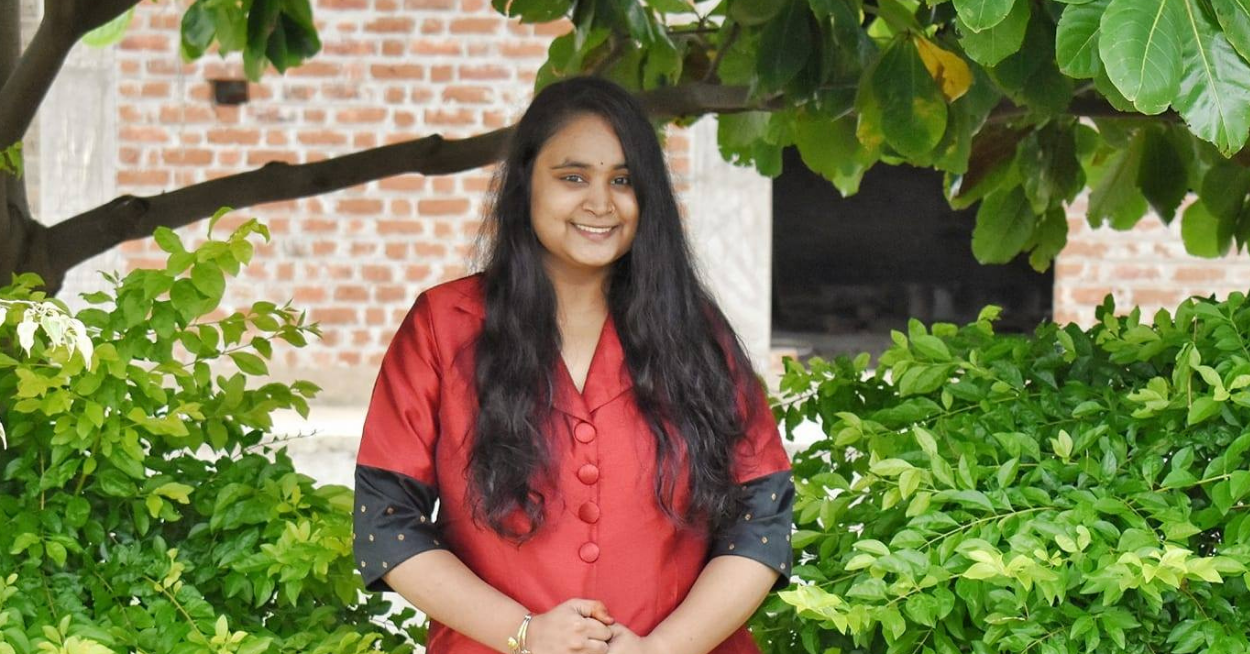 It was when Sahithi had a conversation with her manager from her previous job at a hospital, did she realise that the 'mind doctor' dream was still alive in her, which was when Sahithi decided to pursue her second degree from IGNOU.
"I was in an extremely motivated work environment at the hospital I worked. When I had an unofficial career counselling session with my manager, he suggested that I pursue my true calling as a trauma therapist."
This inspired Sahithi to take up her second master's in Clinical Psychology in 2019. After the story of her abuse was published on Official Humans of Bombay, one of Sahithi's friends recommended YourDOST to her. This was when Sahithi applied to her role as Business Development Manager. 
"I was sure I wanted to work in the field of mental health and working at YourDOST helps me use my knowledge and skill in the field of Business Development and Administration while also interacting with experts and professionals in the field of Mental Health."
When Sahithi joined YourDOST in November of 2020, she was thrilled to work with supportive managers in her team. People around her are more open and she has formed many friendships at YourDOST.
"YourDOST has given me the greatest work-life I could ask for. All my managers are approachable and easy to get along with. Some days I work over the clock, but I don't really mind because I know what I am doing is for a worthy cause of providing accessible mental health for all"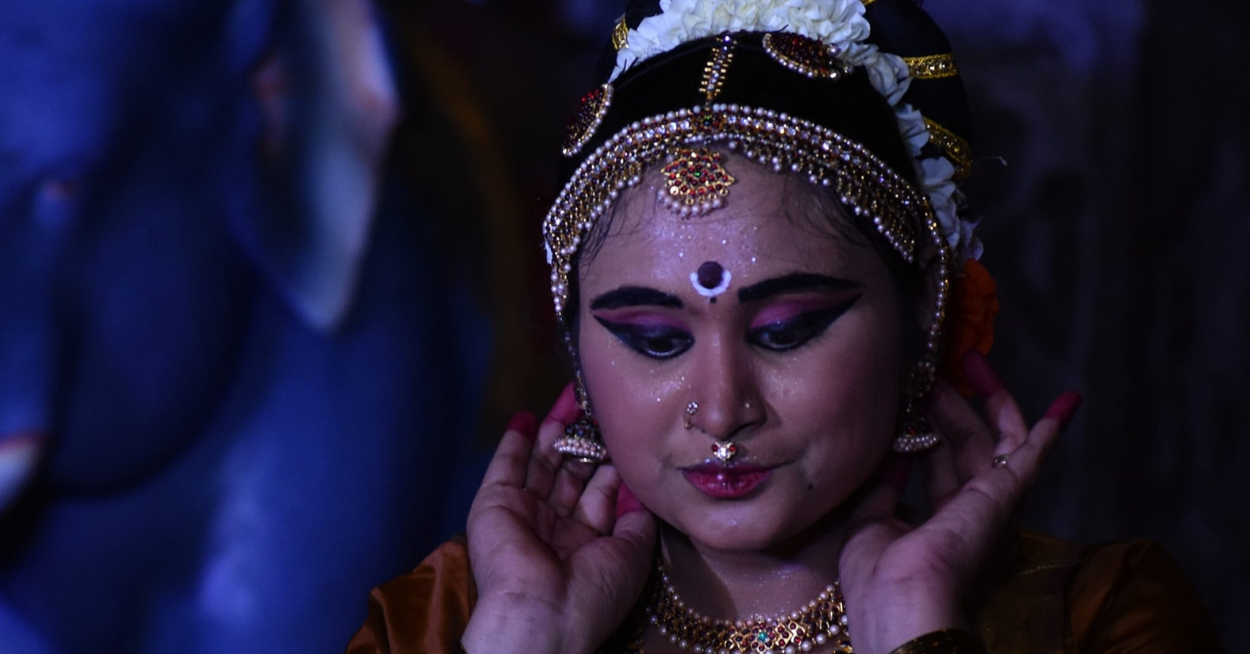 Along with this, Sahithi has gotten back into Kuchipudi after her break. She knew that dance was the one thing that she cannot let go from her life.
"Dance has been my personal therapy. Even now I practice every day, for at least 15 minutes. It is a form of catharsis for me, and I get to spend that time with myself. My day is meticulously planned and I make sure that I follow my strict routine of work, studies, and dance every day"
Over the years, Sahithi has worked on herself to become the best version of herself. With her strict routines of managing her work, education, and dance, she is an inspiration to all her co-workers at YourDOST.
"Even though I have a Master's degree, it did not stop me from pursuing my true passion in the field of mental health. At YourDOST I get to experience the best of both worlds which is something that drives me to be a better person every day."
Sahithi's goal is to finish her Master's in Clinical Psychology and pursue her practice as a Trauma Therapist. She wants to spread awareness and break the stigma around mental health and seeking help in the time of need.