The medical definition of depression is "a mood disorder that causes a persistent feeling of sadness and loss of interest". It affects how one feels, thinks and behaves and can lead to a variety of emotional and physical problems.
Until very recently, depression was considered to be an ailment that happens people who are mentally weak. It was considered that the rich and successful people cannot be afflicted by depression. But the truth is that depression can affect anyone – the rich, the poor, the privileged, the underprivileged, successful or not. Also, there is a general lack of awareness about its seriousness. It is also a taboo topic and not discussed among all social circles.
Karan Johar, one the best known Bollywood personalities have very recently shared that he had been battling with depression for more than 2 years. Karan Johar, popularly known as KJo has achieved massive fame, success and reputation in Bollywood as well other film industries around the world delivering blockbuster hits like Kuch Kuch Hota Hai, Kabhi Khushi Kabhie Gham, Kabhi Alvida Naa Kehna and My Name Is Khan.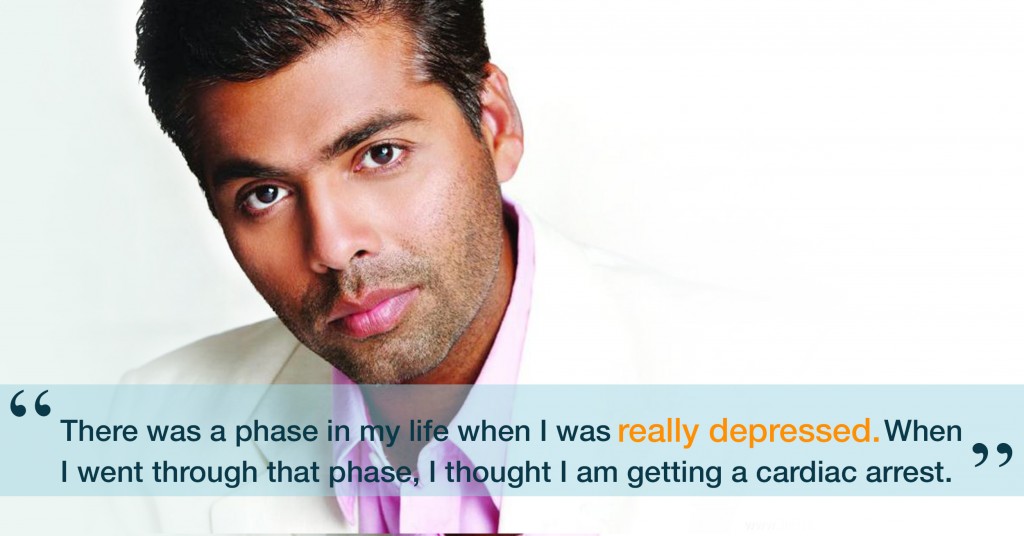 Karan Johar's Battle With Clinical Depression
It has been proven by research time and again that accepting the fact that you suffer from this condition is the first step towards recovery. Also, clinical depression requires one to consult a psychologist and take the prescribed treatment in the form of therapy as well as medicines.
"There was a phase in my life when I was really depressed. When I went through that phase, I thought I am getting a cardiac arrest. … rushed to the doctor. He then said I am having an anxiety attack. I went to a psychologist post that. Then I realised that I had some internal issues to deal with, which got built up to such point that it resulted in anxiety."
Being Successful Is Not Enough To Taste Happiness
Quite often it is assumed that those who are successful are happy. Is that true? Read what KJo had to face when he suffered depression.
"It was dark, deep and helpless time. There was nothing I could do about it. I stopped feeling excitement and happiness. There was lack of sleep and I was always on the edge. … There is so much love I get from my friends but where do I take it all? I used to feel very lonely," says Karan.
Loneliness Can Cause Depression
Breaking the stigmas attached to depression Karan Johar publicly confessed that he has felt lonely. Though Bollywood industry cannot be generalized as a cause of depression, Karan says,
"We live in this bubble all the time as we talk film, we eat film and sleep film and as a result, we build up emotions, which we don't know are really those for the films or you take those when you don't work together. So you land up wondering about every equation you make in the movie industry," Karan acclaims.
Resolving One's Issues Is Important
Karan shared that he had some internal issues which were unresolved which led to severe anxiety too.
"I felt that I did not deal entirely with the loss of my father, though it's been 11 or 12 years, I felt the pain and hurt of certain relationships that had dwindled from my life and I was carrying all that baggage. And the fear of future, the fear that I was not being able to find a life partner. At one point the lack of love in my life was really bothering me."
Importance of Medication and Therapy:
It is important to find out the cause and take medical treatment for depression. When Karan approached his doctor and psychologist, they put him on proper treatment which Karan followed religiously.
"I needed medication… first it was much stronger, then we slowly weaned it off and it's just three months ago that I actually stopped it all," says Karan.
About therapy, Karan had this to say,
"Those sessions made a big difference to me. During those sessions, we touched on many things of my life – loss of my father, baggage of other relationships & lack of life partner. Today I feel a lot more free of it. I feel there are loads of other things to look forward to," he explained.
With an emphasis on the point that there is a need to address this issue since there is a lack of awareness in the society, KJo appreciated other people who chose to open up about battling depression.
Final Words:
Karan's confession about his clinical depression proves that success, fame, money, good looks can not protect a person from a mental ailment. He sets a wonderful example after other Bollywood celebrities like Deepika Padukone, Ileana D'Cruz, and others that depression is not a stigma and needs to be talked about more openly.
Depression is a serious medical condition which can be treated with the right help. Have you been feeling very low lately? Talk to Experts at YourDOST and find out how to deal with it.