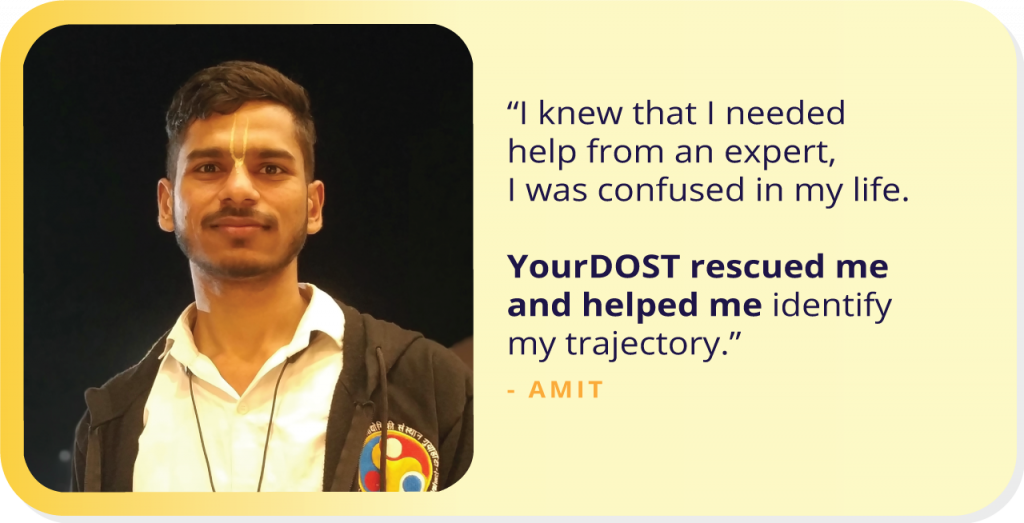 "There's only one way to succeed in anything: to give everything."
-Vince Lombardi
The tale of Naruto Uzumaki began with a rough start. In the intricate tapestry of life, individuals like Amit stand as shining examples of unwavering determination and resilience. Just as Naruto Uzumaki's story was one of overcoming adversity, Amit's narrative is a testament to the remarkable power of grit, perseverance, and embracing the unexpected twists that life often presents.
Amit was born in the heartlands of Haryana and is a hardworking scholar who never backs down from challenges. Pursuing a master's from one of his dream colleges IIT Guwahati, he worked hard to get enrolled.
Amit was a hard-working achiever who loved to groove to the beats of music and cherished talking to people. He also had a nick of teaching and thus taught students that helped him financially enough to pay his college fees.
Talking about his family his roots lie in a close-knit family of six, where bonds were woven with love, and dreams nurtured amidst challenges. He found himself in the company of an elder sister, a younger brother, and another sister, each a unique thread in the fabric of his shared journey.
"I was a comical, cute little guy that everyone liked. I was enjoying my teen years. After the age of 13, things took a turn for the good. I became determined on my studies and aimed to excel at it."

Amit began his journey as he knitted his dream to get enrolled in top IITs or NITs. His preparation commenced from 11th grade onwards.
Life often propels us into new territories, as it did when he embarked on his journey to Rajasthan for his IIT JEE preparation. He passed with flying colours in his final board exams, which boosted his morale.
Adapting to a new environment, far from the warmth of his family's presence.
"The landscape of challenges unfolded, and as I navigated through unfamiliar terrain, I found myself yearning for connection."
Naruto's story mirrored Amit's in the realm of friendships. The setting felt alien, and making connections became an uphill battle. Yet, both learned the art of resilience. Just as Naruto stood as a pillar of strength for his friends, Amit sought to blend into the crowd but found it to be a mismatch with his true self.
Amit grappled with identity, striving to align with the crowd's norms, only to find that authenticity was his greatest asset. He took his time to adjust to the new extra-terrestrial space for him. It was clear to him success only meant excelling at academics, but his belief shattered when he realised other activities were equally important.

"It felt like an entirely different realm that lay before me. My mindset had centred around the belief that excelling in studies and achieving high scores were the sole pursuits of importance. However, in this new environment, things were distinct; academic prowess didn't necessarily equate to overall excellence."
Amit's environment began affecting his academic performance it slowed him down. He had changed rooms in the hostel. Amit sought his equilibrium. He needed someone to help him figure his things out.
After conducting thorough research, Amit discovered information about post-graduation programs offered by IITs. He resolved to successfully clear the entrance examination and secure admission into an IIT for his post-graduation.
"I opted for enrollment at a nearby college, strategically choosing an affordable alternative that matched my financial circumstances. This marked the commencement of my preparation journey for the IIT post-graduation exam."
Amit took the exam, and in his second endeavour, he achieved an All India Rank (AIR) of 120, earning him admission to IIT Guwahati. He felt a deep sense of pride, having overcome and realised his aspirations.
As he completed his exam, a sense of uncertainty enveloped Amit. He found himself at a crossroads, needing a mentor who could illuminate the intricate path of life and career ahead.
The myriad choices left him bewildered; questions lingered about whether to delve into software development or which IIT would best suit his pursuit of post-graduation.

Amit remembers how his college signed up with YourDOST. He took that first step and contacted the platform and started therapy sessions with YourDOST, ever since then he has become more focused.
Amid his confusion, Amit sought guidance from a counselor named Ms Sharanya. With a wealth of techniques up her sleeve, she embarked on a journey to help him find clarity and purpose.
Her approach was patient and attentive. To begin, she lent him her ears, allowing him to pour out his thoughts and feelings, painting a comprehensive picture of his current state. She delved deeply to understand his past and mental well-being as well.
She recommended some techniques to cope with the emotions that he was going through.
She advised him to greet the morning with a refreshing walk, infusing energy into his day. An equally powerful suggestion was the act of transcribing my emotions onto paper, a means to untangle the complexities of my thoughts.

From childhood innocence to responsibility, academic struggles to triumphs, his journey is a testimony to human resilience. Through challenges and transformations, Amit learned to embrace authenticity, seek guidance, and adapt to change. The pages of his story are a reminder that every challenge met with determination is a stepping stone to growth.
Amit rates an impeccable 4 out of 5 in terms of getting better and wishes to continue thriving and grinding to become a better version of himself each day.
Amit's dauntless efforts brought him a step up on the ladder of success. He has delved into the field of education and is a proud CEO of IITian MscWale educating students in preparation for an MSc from IIT. Working as a mentor and polishing students to achieve their dreams is what Amit's turnaround looks like.
"Today, I have overcome all the difficulties and find my plate to be full. I wish to emphasise the importance of being honest with yourself and taking care of your well-being."
Amit's Warrior Tips:
1. "Your determination and grit can help you in overcoming challenges you just need a push to do that."
2."Acknowledging your feelings is a must, start by recognising and accepting your emotions and work on it."
3."Always reach out to the experts when needed, because they know what is best."