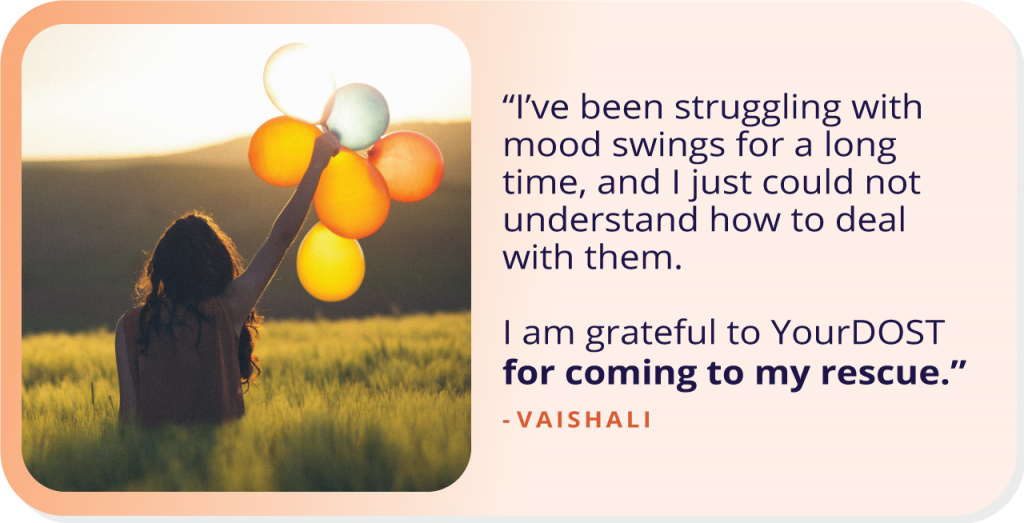 TW: Mention of Self Harm
Vaishali is a bright, resilient 21-year-old individual pursuing her Master's in English from Sri Ram College of Commerce.
She is originally from Rajasthan and has lived there with her family for most of her life. She enjoys reading books and watching movies and TV shows in her free time. She also loves to engage in Yoga regularly, as she finds calm and peace in the art.
Vaishali mentions that her interests are very different from the ones her parents share, especially her father.
Oftentimes, we find ourselves so different from our very own family, and this difference can create a drift between people. Thus, she always felt as if there was a constant sense of distance between them.

Despite the advocacy for mental health in today's time, many misconceptions and stereotypes associated with it make spreading awareness and seeking help a constant problem. Additionally, this makes it difficult for people to acknowledge the depth of their problems.
"I've been having severe mood swings for a long time now. My parents are not very aware of the importance of mental health so I found it very hard to talk to them about it."
Having an open, honest conversation about mental health with our loved ones may not always be easy for everyone. It's a conversation that has been stifled for quite a lot of us.
In the year 2020, when everything changed, Vaishali says that her mental health had also taken a dark turn, and it felt as if she reached rock bottom. She found it difficult to get through the days and thought things just could not get better.
"My anxiety increased and I was also diagnosed with Major Depressive Disorder. I also resorted to self-harm at a point in time."

Sometimes the noise around us, in our world, in our heads, and the demands of life give us no space to do the things we want for ourselves. Life feels like a body of water that stands between two islands of where we are and where we want to go.
Similarly, Vaishali used to feel as if she was stagnant, she had no energy or motivation to do her daily activities. Moreover, this was around, when she was entering a new phase in her education as she was beginning her Master's Degree.

It's not whether you get knocked down, but whether you get back up. Vaishali jumped through the hoops and worked hard to find strength in herself, choosing to get back up braver than ever
When Vaishali found out her University partnered with YourDOST, she decided to give counseling a try and has never once regretted it.
Like a shining light, Ms. Krathika appeared at a time of darkness and guided Vaishali to a place of healing and self-love. She provided Vaishali with the right tools and strategies to help her manage her emotions better.
Waves in the ocean remind us just as they come and go, the hardships in life will too. What was once a storm is now just a ripple in an ocean of hope and love in Vaishali's life.
She has come a long way in her journey and rates herself a 3.5 out of 5 in terms of feeling better. She is indeed a true embodiment of hope and strength.
Vaishali's Warrior Tips:
1."It might be difficult to reach out at first. Be patient and kind to yourself and trust that good things take time."
2."Improvement is all about consistency. Stay focused and motivated, and you'll find you can achieve anything you set your mind to."