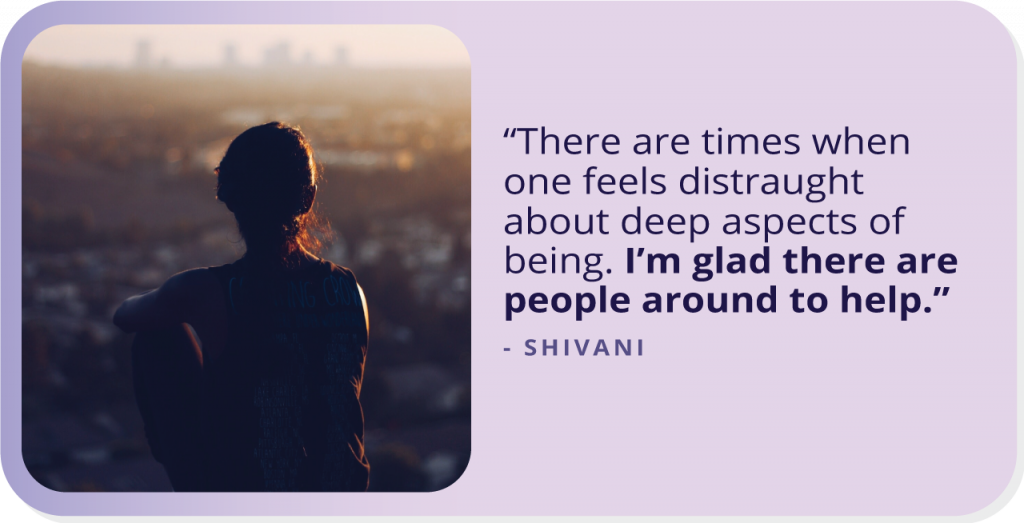 They say some of the best life lessons are learned in your 20s. Between complicated relationships, career choices, and an endless quest for self-discovery, life feels like one big roller coaster.
The way we navigate through this journey sets a path for the rest of our lives. Here's how Shivani found comfort and clarity in her 20s.
Hailing from Noida, Shivani is a 25-year-old passionate woman. She completed her Bachelor's in Civil Engineering from IIT Madras and is currently working in Mumbai.
She's very passionate about music, reading books, and traveling. She shares that the memories from her childhood were carefree and enjoyable, thanks to her relationship with her family and her very own adventurous spirit. 

As Shivani grew up, she found herself feeling more and more confused about who she truly was.
"I started to fall into a spiral of self-doubt and identity crises when I was in college. I didn't know who I could talk to about this, and I started to feel anxious very often."
She expresses the discomfort that came along with these confusing times and found it very difficult to be emotionally vulnerable with others.
Lewis Carroll's famous Alice In Wonderland tells an inspiring tale of curiosity and adventure. Though Alice's journey down the rabbit hole wasn't a smooth sailing one, she ends up equipped with new experiences to navigate her real world.
The experiences that Shivani has been through have played the same role in her life. Despite the fear that comes with taking risks, she chose to be strong and work towards a journey of growth with YourDOST.

 "The thing I wanted the most was clarity. I wanted to have a stronger understanding of myself so I can enrich the relationships in my life."
When the caterpillar asks Alice, "Who are you?" she struggles to find an answer. The truth is that it's a question that most of us spend our entire lives looking for the answer.
Similarly, this was an answer that Shivani was determined to discover. She found out that her university was partnered with YourDOST and decided to give therapy a shot with her counselor, Ms. Diya.
She articulates the sense of calm and peace that she experienced right from her first counseling session.

Shivani mentions that she initially had doubts about the effectiveness of counseling. She wasn't sure if it was something that could help her on this journey.
"At first, I thought it might be a bit far-fetched to try therapy. However, as soon as I began my sessions with Ms. Diya, I understood the necessity of it and I'm so glad I did it." 
Ms. Diya assisted Shivani with a few grounding techniques which helped her calm her mind when she felt anxious. She also found that journaling and guided meditation did wonders for her mental health, and she continues to follow them as often as she can.
Sometimes in life, we set goals for ourselves and create only one path to achieve them. However, in the roller coaster of life, we might get lost on this path but still end up achieving our goals in a way we never imagined possible.
This perhaps is one of the best lessons we can learn from Alice in Wonderland. Shivani discovered that she didn't have to rush to find herself, but instead enjoy the journey that comes with it.
With the help of therapy, she discovered a newfound hope for the future.
"I started to feel a lot more positive about my journey, and confident in who I was. All I needed was a change in perspective, and someone to reassure me that it's okay to not have all the answers all the time." 
"It's no use going back to yesterday, I was a different person then", says Alice. With courage and determination, Shivani too has decided to let go of her past and focus on who she is in the present.
She rates herself a 4 out of 5 in terms of feeling better and believes she has a long way to go in this journey of self-discovery. We wish her all the very best for the future chapters to come!
Shivani's Warrior Tips:
1."Be patient and kind to yourself. Though you may have a lot of doubts about your life, trust that good things take time and that there will always be someone to help you."
2."Be open to taking risks. It's the best way to discover more about yourself."