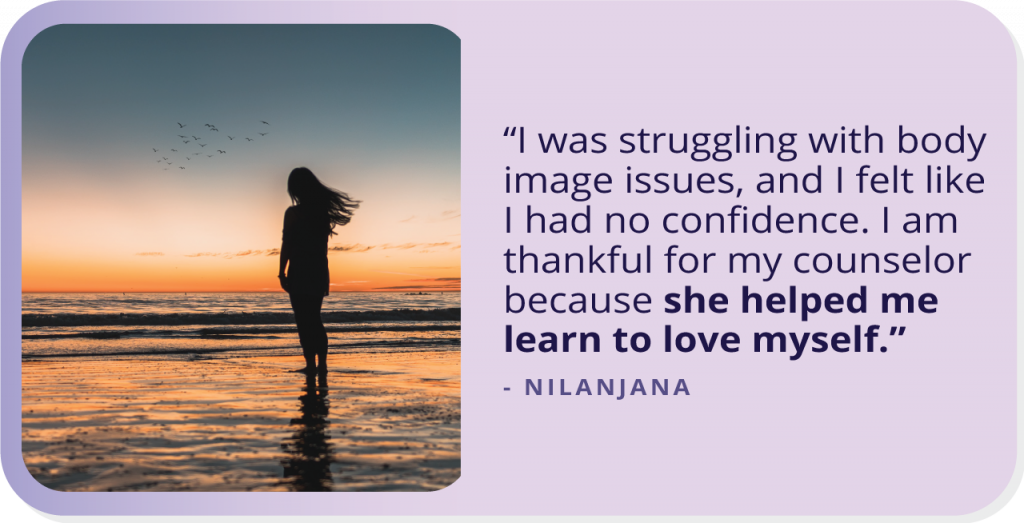 TW: Depression
On the other side of the storm is the strength that comes from having navigated it. Here is the story of how Nilanjana raised her sail and journeyed to the other side of her storm.
Nilanjana is a 27-year-old professional in the field of Research and Development. She is a very creative individual with a keen interest in reading and writing.
Our families are our rock in this world. Nilanjana shares that she had a wonderful bond with her family, especially her sister. However, when it came to discussing her mental health, she found it difficult to approach the topic with them. 

"When the COVID-19 pandemic struck, I moved back to live with my family. This shift back home was difficult, and we had to try to make the best of our situation."
Nilanjana also battled many insecurities related to her body image and slowly began to isolate herself from everyone around her. She was diagnosed with depression and did not want to talk to anyone about her issues, as she felt that it would be a burden on them.
Sometimes, we all need a different perspective from ours to truly understand the gravity of a situation. For Nilanjana, that perspective came from her sister.
Her sister could tell that Nilanjana needed someone to help her get back up. Having been through therapy at YourDOST and seeing the benefits, Nilanjana's sister encouraged her to let herself heal with counseling.
"I had become very averse to the idea of talking to people. I never wanted to step outside my house. My sister could tell that something was wrong so she recommended YourDOST to me."

Being vulnerable is what connects us with others. It opens up a world of joy, love, art, and empathy. Nilanjana has absolutely no regrets for taking the step to be vulnerable with her therapist.
With her sister's help, she decided to book her first session with her therapist at YourDOST.
Nilanjana mentions that her self-image had deteriorated so much before she began therapy, to the point where she didn't take pictures of herself for a few years. With the help of her therapy sessions, she has learned to be kinder to herself.
"My therapist helped me sort my thoughts out easily, so I knew when I was overthinking. I immediately spotted these triggers and found ways to handle these thoughts that come, as they no longer have so much power over me."

Once Nilanjana began her voyage towards improvement, she never looked back. Though the journey had its ups and downs, she continued to steer her boat toward the other side of the storm.
From isolating herself from everyone around her, Nilanjana has transformed into an expressive, confident, and content individual through the help of her counselor.
Knowing that Nilanjana loves to express her creativity, Ms Drashti gave the techniques that helped her channelize her emotions and thoughts in a much more positive way.
Ms. Drashti also provided some grounding techniques, along with muscle relaxation techniques which helped Nilanjana cope with the panic attacks and nightmares she had been having earlier.
"One of the biggest positive changes I've had is that I can look at other people's lives without feeling dissatisfied about my own. I am much more positive today."
Self-love can and will change your life. It is what strengthens your relationship with yourself, and ultimately others.
Nilanjana learned to overcome her insecurities and love herself the fiercest way she can. She mentions that it is this self-love that has strengthened her other relationships in her life.
"I'm extremely grateful to Ms.Drashti for being like a friend to me, to help me go through this path in my life."
Nilanjana's journey is an inspiring one filled with determination, courage, and resilience. When she was asked how she felt in terms of feeling better, she rated herself a 4 out of 5.
As the quote goes "mighty drops make an ocean."
Nilanjana's journey encapsulates these drops of willingness and courage that have created a wonderful ocean of love and acceptance in her life.
We could not be more proud of the strength she has shown, and we wish her a future filled with love, joy, and happiness. 
Nilanjana's Warrior Tips:
1."There's absolutely nothing wrong with needing help. Don't be afraid to ask for it, because the results will be completely worth it."
2."Loving yourself is one of the best things you can do for yourself."