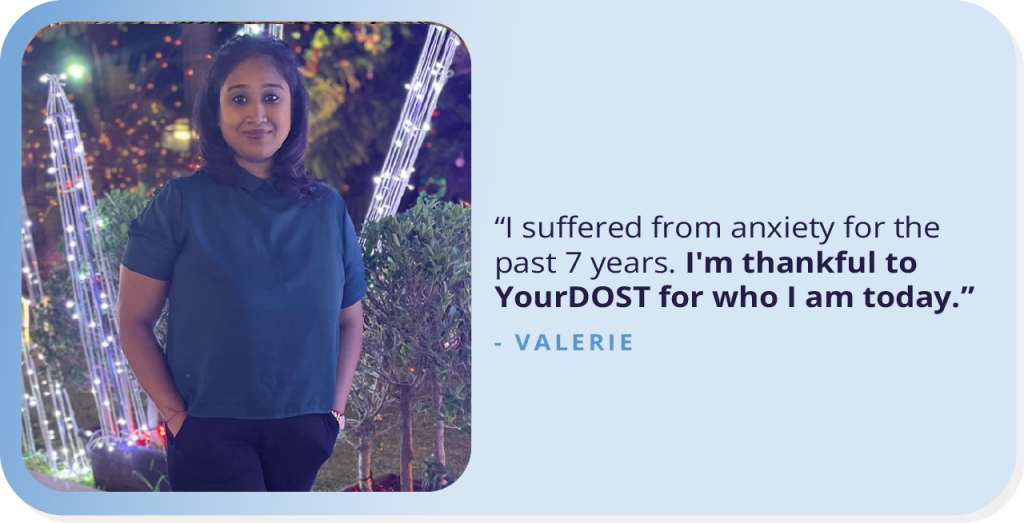 Valerie Joseph was brought up in Pune. She is a proud mother to a 5-year-old son. She was born in Kuwait. She is a working professional as an associate manager at Phreesia. She has also worked as a career coach in the past.
Childhood is one of the most precious moments in one's life, filled with countless memories. It's the formative years of your life with a lot of learning. Our parents shape us in our growing years. Valerie had a different one altogether.
Valerie lived with her grandparents. Her parents were in Kuwait. She had gone through a tough childhood. She has a sister and a brother. She had lost her brother in a car accident when he was 19.

Some incidents leave scars in our lives, and coping with them could be unsettling. Valerie was undergoing massive stress. Losing her brother early and her father-in-law just a year after her marriage left a void.
"Losing 2 of my close ones hit me hard. It impacted me and resulted in panic attacks and constant anxiety."
A few months after losing her father-in-law, her mother-in-law was diagnosed with kidney cancer, and she could not afford to lose another family member.
"I was in my office when I received the news that my mother was getting discharged from the hospital that's when I had my first panic attack just thinking about visiting the hospital because all the memories would flash in front of my eyes."
She has now developed a fear of doctors and hospitals to the extent that getting a blood test done is a task for her.

Sometimes we are so occupied with everything happening around us that we forget to prioritise our mental health, and we keep pushing to an extent where it's emotionally draining. Valerie was experiencing the same. All the hitches added up later to come down on her falling like an avalanche. Just like how a snowball on rolling gathers more particles and then hits like boulders.
Thinking about a negative aspect of a situation was the first thing that popped up in her head. Panic attacks were consistent with enormous mental stress. The problem with overthinking is you're either in the past or thinking about the future, heavily impacting your present.
"I'm glad YourDOST partnered with Phreesia to cater to mental health. It is a revolutionary step to help people in need. I'm happy to make the most of it."

Initially, Valerie was hesitant to open up and share what she had gone through with an expert but she went ahead anyway. The warmth and empathy in Ms. Krishna instantly put her at ease, making it comfortable to express herself freely. Her bold step to seek help and talk openly about it was brave. She connected with Ms. Krishna Sathiyan who left a remarkable impact on her life. Ms. Krishna helped her calm herself down. She was glad to have decided to share and feel better about it.
She recommended some exercises to follow like breathing, meditation and penning down her emotions in a journal. She followed all the activities because she was determined to be a better version of herself.
Valerie was in a much better mental space post-therapy and the changes were absolute. She knew she had come a long way now, from 2-3 panic attacks daily to once a week. She is proud to achieve this milestone.
Valerie started taking extra care of her mental and physical health. She now has a strong hold on her emotions.
Valerie is a better version of herself today. She rated herself a solid 4 out of 5 in terms of getting better.
Valerie's Warrior Tips:
1."There is nothing more important than yourself in this entire world. Look after yourself and prioritise your mental health. The sooner you address it, the better it is for you and your loved ones. Give importance to your mental health."
2."Don't be hesitant to seek therapy, and don't give importance to what others think of it."