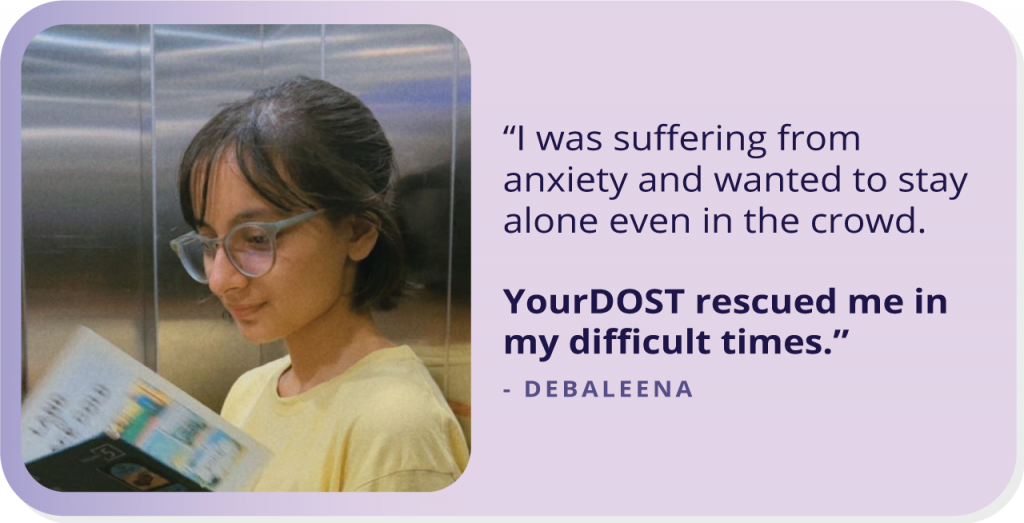 Debaleena, 26 years old, hails from the land of tea Assam. She likes to stroke paintbrushes and splash colours onto the white canvas. She finds immense pleasure in wandering around the fictitious world of the unknown by reading books.
Fate took Debaleena from the East to the Western Front of India. She joined IIM Udaipur to pursue an MBA and chase her dreams. She had to traverse to a new place. It was a new beginning. She is an academic researcher now.
The first few years of our lives are crucial as it's the learning phase. During this phase, our brain grows fast and learns new things to store them forever. Childhood is the best part of one's life, you're carefree, allowed to make mistakes and most importantly eat ice cream in summer. Debaleena enjoyed her childhood and learned too. She lived with her grandmother and her maternal aunt.
"I share a huge part of my childhood with my grandmother and maternal aunt. I have an inseparable bond with my sister."

"I was suffering from anxiety and had started to feel low. It's hard to reflect on these things that I was going through. I was desperately in need of help. I connected with YourDOST to seek the expert's help."
Anxiety gets triggered for various reasons. It may be because of stress or past buildups. This results in a series of events that pile up to become a big hurdle that would hinder your daily life.
Debaleena's professional work took a nose dive, lost her productivity and pace. She was sinking into the quicksand of depression. She unhooked herself from the social chains of society. Surrounded by people, yet felt lonely. She found it difficult to carry out mundane daily tasks.
"I felt enclosed inside a shell with everything going around with me. I could see the light in the distance that kept me going."

Debaleena was acquainted with therapy before reaching out to YourDOST. She was at home during the pandemic and needed help from a therapist. She connected with a few and attended the sessions. She felt the need again and sought help from YourDOST.
Debaleena remembers how her college had signed up with YourDOST. She decided to talk to experts to take therapy sessions from YourDOST. Since then, the journey for her has been quite something.
Debaleena found the platform very well-organised and helpful. It eases the whole process of scheduling the sessions with the experts. She instantly booked one for herself to connect with an expert.
"I'm thankful to Shravya for listening to me so patiently and guiding me through my tough times."
Ms Shravya Devadhar helped her understand what she was going through, pushed her to think broader and break the window of her thoughts. She had trouble carrying out mundane tasks, and her counselor helped her through such situations. She recommended approaching these tasks in small chunks and finishing one after the other.
Shravya also asked a set of questions to Debaleena and discussed them in detail. This practice of questionnaires and discussion helped her learn about new things. It helped her to understand deeper and get acquainted with the other side of the fence.

The journey that Debaleena had started seemed difficult initially, but as she travelled through, she was enlightened. She was on the path to recovery to get to the root of the problem and cut the ties before it outgrows itself.
"I have come a long way now. I feel brave to have come through. My thinking perspective has changed drastically. I have a structured approach to dealing with my problems now."
Debaleena embraced the change she felt within herself and is thankful for the transformation that she has achieved. She rates herself 3 out of 5 in terms of getting better and feels there's always room for improvement.
Debaleena's Warrior Tips:
1."Be patient and wait for the right time. Nothing is permanent."
2."Gather your thoughts and think before you speak when you're going through tough times."
3."We sometimes just need a little push to break free from difficult situations."