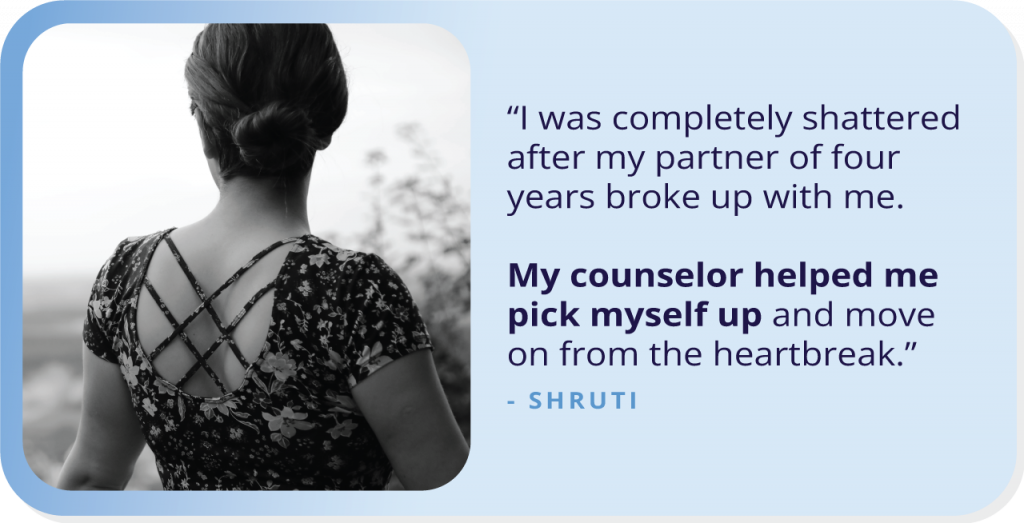 Hailing from the bustling city of Lucknow, Shruti is a 22-year-old creative and vibrant individual. She is currently pursuing her BTech from Vellore Institute of Technology.
With a passion for reading, calligraphy, and coding, she has an exemplary blend of creativity and intellect.
"I come from a joint family in Lucknow. Since I am the youngest child in the family, everyone would give me their attention and I always felt so loved."
Life seemed like a symphony until a sudden discord shattered her heart. A year ago, Shruti experienced the painful sting of heartbreak when her four-year relationship came to an end after she discovered her partner's betrayal.

"I was in so much pain that I shut everything out for six months. I found it too difficult to talk to anyone about how I was feeling."
From being a vivacious extrovert, Shruti started to isolate herself from all her loved ones. She would keep her troubles to herself, worried that she would burden the others around her if they knew what she was going through.
A new chapter began when she moved to Tamil Nadu to pursue her degree. However, the wounds from her past still cast a shadow over this new journey.
"My academics had taken a dark turn. This was very hard for me to accept since I've always been a good student."
Coming from a family where love was abundant, Shruti struggled to find to make peace with her breakup. Anxiety started to creep into her everyday life, and getting through the days only seemed to be more difficult as time went on.

"I started having panic attacks more often than ever before. In fact, every time someone would mention my ex-partner's name, my hands would start to shiver and my chest would feel heavy."
Knowing that this was not healthy for her, Shruti decided it was time to allow herself to get help. She learned that her college had a partnership with YourDOST, bringing her counselor Ms. Sameeksha as a shining light to her life.
The walls that Shruti built around herself slowly came down as Ms. Sameeksha helped create a space for her to share her deepest vulnerabilities. With every conversation, she gave Shruti her genuine attention and helped unveil her deepest emotions.
Shruti mentions that she felt very distant from her friends, and she could not help but blame herself. Ms. Sameeksha guided her to mend those bonds and constantly reassured her that she would never have to feel alone.

One transformative exercise that helped Shruti was to write letters to herself, giving her an outlet to release her emotions. And as a result, she slowly started to let go of the pain that was so deeply rooted in her.
She also began her day by listing the things that she was grateful for. The power of gratitude, like a magical spell, would lift her spirits.
"I started to feel so much more positive about my life. Even if I did not list the things I was grateful for, I would still feel it so strongly every day."
Though she had her fears and doubts about counseling, Shruti mentions that she is so glad she pushed herself out of her comfort zone and expresses her gratitude to Ms. Sameeksha.
In terms of feeling better, Shruti rates herself a 3 out of 5, recognizing that healing is a journey with ups and downs.
Today, Shruti imparts a valuable lesson to us- The key to navigating life's challenges lies in making peace within yourself. We are beyond proud to see how far she has come, and we wish her all the best for the future!
Shruti's Warrior Tips:
1."Though it may seem difficult, always remind yourself that there is so much to look forward to in the future. Be patient and kind to yourself."
2."Acceptance is the key to moving forward from a hurdle in life. Know that it's okay to feel sad, and ask for help when you need it."