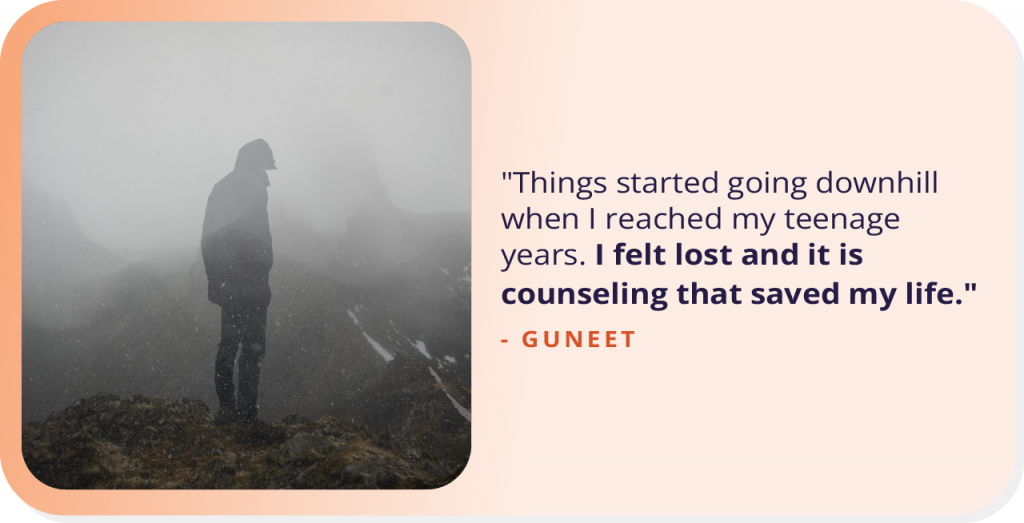 Here's the story of a young, driven individual with resilience and courage who battled through the challenges life threw at him.
Guneet is an 18-year-old boy pursuing his Bachelor's in Technology and Engineering. He loves involving himself in different passions like sports, gardening, and reading autobiographies.
"Growing up, my parents and I did not have the kind of relationship where we would talk about our emotions. I was not used to being expressive with other people."

The bittersweet thing about growing up is that it starts before you know it. For Guneet, the onset of puberty came with its baggage that he simply wasn't ready for.
"Throughout my life, there has been an absence of emotional support from my parents. As I grew older, I started to withdraw myself a lot more from the world around me."
He began to shut himself down from everything around him. He lost interest in socialising with his friends and his hobbies and struggled to make it through the day.

As the years passed by, Guneet's mental health started to deteriorate. He found that he was barely able to get himself through the day because of the storm that he was experiencing internally.
He started to go down a path of self-doubt and burnout which ultimately led to being diagnosed with depression.
"For two years, I was in denial about my feelings. I didn't know how to help myself nor ask for the help I desperately needed."
Everyone needs a support system sometimes. Whether it's family, friends, coworkers, or therapists, we all need someone to lend a helping hand.
Guneet mentions that while he was growing up, there was no one he felt he could turn to for guidance.
"Our family never had conversations about mental health. As I grew older, I knew it was time for me to start doing what's best for myself and that's how I began counseling."

It's impossible to start a new chapter in your life if you keep re-reading the last one. Guneet took the first step to writing his new chapter and this time, he knew he would need help.
His mother found out that her organisation, Suchitra Academy had a partnership with YourDOST. Though Guneet was hesitant at first, he knew he needed assistance and decided to book his first session with Ms. Nidhi.
"My counselor truly helped me learn to be kinder to myself. She was always so supportive and patient, and truly like a friend."
Ms. Nidhi helped Guneet identify where he needed help and how to help him. She assisted him with techniques such as journaling, making to-do lists, and meditation, and helped Guneet learn to focus on himself.
Within a few weeks, Guneet noticed that he physically started to feel lighter. His daily concentration improved drastically, and he had a sense of optimism about the future.
"You were given this life because you are strong enough to live it." – Ain Eineziz
The strength and courage that Guneet has acquired throughout his journey is inspiring to all of us who doubt that things will get better. He rates himself a 4 out of 5 in terms of progress and believes he has an exciting future ahead!
Guneet's Warrior Tips:
1."Finding one person who you can confide in can do wonders for you. Take your time and open up when you feel ready."
2."There is so much out there that you have to look forward to, so don't give up hope no matter what"