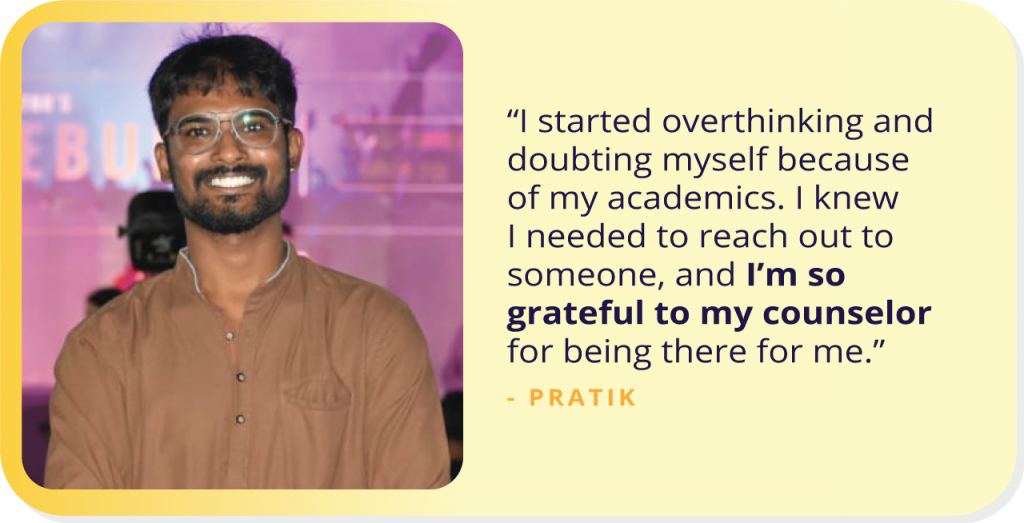 In the vast ocean of life, we often find ourselves sailing through turbulent waters and storms that threaten to overturn our boats and cast us adrift. These storms can come in various forms: personal challenges, failures, setbacks, and unexpected hardships.
Yet, amidst the chaos and uncertainty, there is one anchor that can keep us steady and guide us through the darkest storms- our inner strength. Here's the story of Pratik, a 25-year-old hardworking and devoted young soul who found his inner strength through counseling.
Initially from Maharashtra, Pratik pursued his Bachelor's Degree from MIT Pune and is currently pursuing his Master's in Artificial Intelligence from IIT Patna. He belongs to a family of four and has a loving relationship with them.
With a zest for life and a hunger for new experiences, Pratik loves travelling and discovering new places around him. He also enjoys reading in his free time, especially about history and self-help.
When Pratik began his Master's degree, he entered an entirely new chapter of his life. Though he had high hopes and ambitions, he encountered a storm of academic struggles and self-doubt that threatened to derail his voyage.

"When my results came out and I found out my grades were so low, I felt like a failure. I couldn't seem to move past it, and it brought down my self-confidence."
The weight of his academic struggles pulled Pratik into a sea of despair. It was at this moment that he recognised the need for guidance and support. He took the courageous step of seeking counseling, much like reaching out for a lifeline when adrift at sea.
"I was scared to talk to my friends and family about how I was feeling. I thought they might not understand, so I decided to give counseling a try."
Through his University, IIT Patna, Pratik discovered YourDOST and booked his first session with his counselor, Mr. Chitrang.
The purpose of his counseling journey was clear- he needed to share the tumultuous emotions that raged within him. Overthinking had become a relentless storm, casting shadows of anxiety over their every thought. The fear of judgment loomed like a dark cloud, but Pratik found solace in the presence of Mr. Chitrang.

Like a lighthouse guiding through turbulent waters, Mr. Chitrang provided not only a listening ear but also a toolkit of techniques and strategies. Meditation helped Pratik navigate through the maze of overthinking.
"There are so many ways in which counseling helped me. For example, the Self-Help books that Mr. Chitrang would guide me through gave me the strength to overcome my fears and build my confidence."
Pratik mentions that one of the most significant changes he has experienced through his counseling is his ability to manage his emotions. With these new strategies and tools, nothing seemed impossible.
"Counseling has also helped me strengthen my relationship with my family and friends. I am no longer scared of their judgment, and I have also learned to empathize with people better."

Ships rarely sail alone. They have crews to help navigate through rough waters. Similarly, we too should seek support from the people around us.
This is an important lesson that Pratik learned in his 20's. He mentions that Mr. Chitrang helped him find that direction in his life, and guided him along the path of resilience and overcoming self-doubt.
"Mr. Chitrang has helped me discover that there is so much more to look forward to in life. I'm extremely grateful to him for his constant guidance and patience."
With the essence of a true adventurer, Pratik has emerged from this journey stronger, more self-confident, and ready to face life's challenges with courage.
In terms of feeling better, Pratik rates himself a 4 out of 5 and acknowledges the progress he has made, and that there is a long way to go. We wish him all the best in this journey.
Pratik's Warrior Tips:
1."Don't suffer in silence. Reach out to a trusted friend, family member, or therapist. Sharing your feelings is an important part of healing."
2."Embrace self-discovery. Learn about your strengths, weaknesses, and passions. It will help you grow to be the best version of yourself."