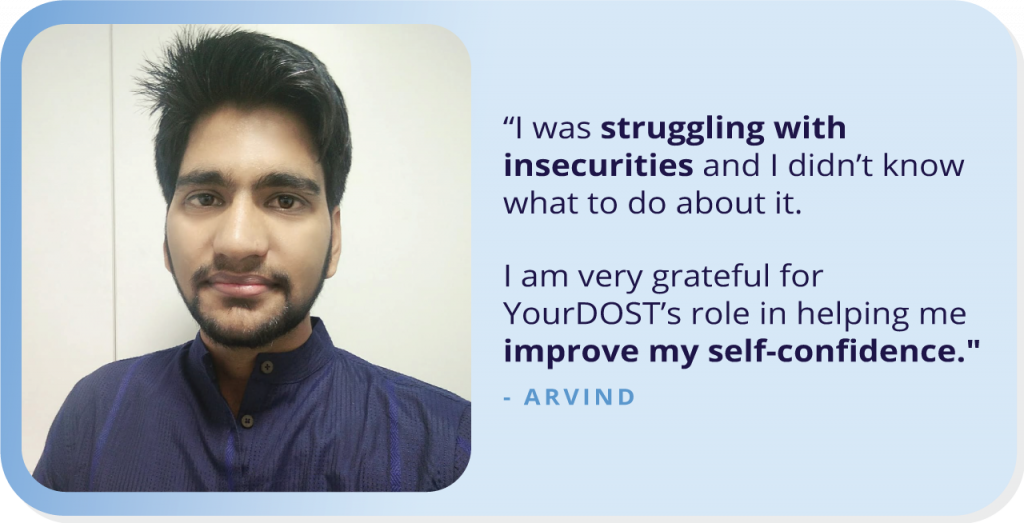 A comfort zone is a beautiful place, but there's very minimal growth there. Our lives begin once we step out of that place, as we challenge ourselves to constantly learn.
The movie English Vinglish is one which perfectly captures the importance of doing so. Just like the protagonist's determination to feel more confident and explore the world outside, we see Arvind embark upon a wonderful journey in his life.
Arvind belongs to a family of five from a small town in Rajasthan. He is 25 years old and has pursued his BTech from the prestigious IIT Guwahati. 
Arvind enjoys playing football and basketball in his free time and has also involved himself in many fests within his college. Currently, he is preparing for the Civil Services Examination.
"During the Covid19 Pandemic, I found it very difficult to stay consistent in my studies. My self-confidence was getting weaker and I was only feeling more and more stressed." 

The pandemic in 2020 brought on a series of challenges for all of us. The lack of physical contact with our loved ones, the stress of work as well as academics, and the uncertainty of the future- all of these caused a lot of stress to everyone around the world.
Arvind felt the weight of this stress get heavier as he found it more difficult to keep up with his college work. This diminished his self-confidence to the point where he neglected his studies for months.
Arvind also shares his troubles with expressing himself, especially in English, which only led to him feeling more insecure and inevitably isolating himself from others.
"After hearing about YourDOST through my college, I decided to give counseling a try. I wanted to be better and learn how to express myself."
Instead of dwelling over the time you've lost in the past and undermining yourself, it's always better to learn something that you've always wanted to. The protagonist in English Vinglish took up a challenge to work on herself. We can see this same parallel with Arvind's determination too.

"Counseling helped me in a lot of ways. I learned how to balance my studies better as well as boost my confidence." 
Though Arvind initially struggled to communicate his needs, his counselor, Ms. Nimisha created a very safe, non-judgemental space for him to slowly open up. She also helped him build a timetable to accommodate all his duties while also prioritizing his mental and physical health
"I am so grateful for her since Ms. Nimisha also helped me improve my English, and I felt more confident in myself." 
Ms. Nimisha was able to identify exactly what Arvind was struggling with and how to help him. She helped him with mindfulness techniques, yoga, and meditation. The timetable she helped him create worked wonders for him, and he started to feel much more confident. 

Life is 10% what happens to you and 90% how you react to it. Rather than allowing his insecurities to get the best of him, Arvind decided to go out into the world and be brave.
He embraced several positive changes that occurred as a fruit of his hard work. He felt more reliant and optimistic about his abilities. His friends started to notice these changes in him too, which only further motivated Arvind to continue working on himself.
"Counseling was truly a wonderful experience for me. I am so grateful to YourDOST for their extremely supportive and accommodating team."
Today, Arvind believes he has come a long way in his journey of improvement and rates himself a 3.5 out of 5 in terms of feeling better. With his determination and sincerity, we know he will only continue his upward climb of working on himself.
Arvind's Warrior Tips:
1."Give Therapy a chance. You might not know you need it, but it will help you improve your well-being."
2."Results don't occur overnight. Real change requires effort so work hard and you will achieve the results you've always wanted."