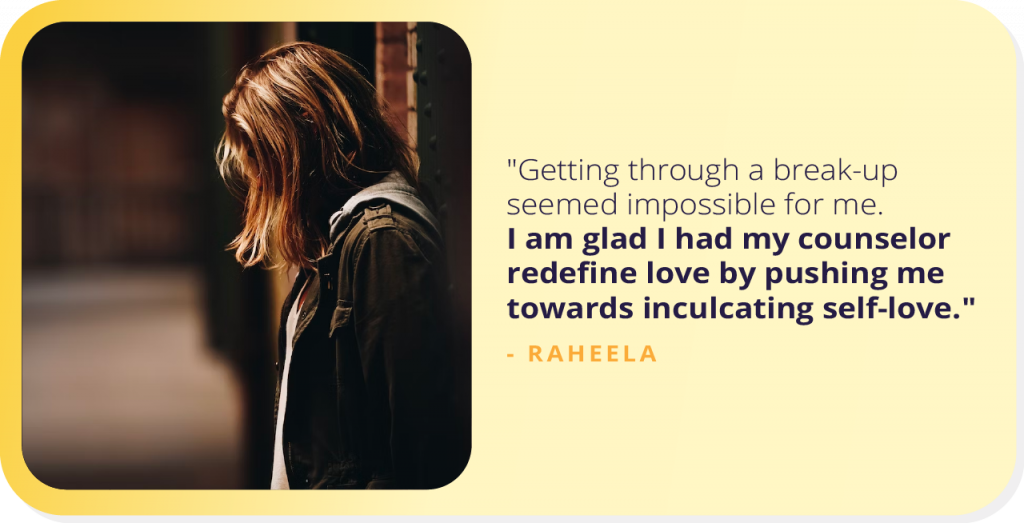 Raheela is a 22-year-old student from Anant University and she is pursuing her Bachelor's in Design – Communication Design.

She is a single child and lives with her mom and dad belonging to a humble family of 3. 
A National skating player enjoys nature and mentions that she has spent 10 years of her life being immersed in outdoor sporting activities. This has surely made her a resilient young woman to go after hurdles without stopping under any circumstance.

"Growing up I was close to my grandparents and grandmother in specific. He used to always answer all the questions I used to ask and I was able to connect with him on a deeper level." 

She also mentioned that growing up for her was filled with fun and frolic and it was the best part of her childhood.
Raheela is an enigmatic individual and preferred her own company over everything.

As somebody who doesn't share many things with people. After her 10th grade, she stopped trusting people as a few things did not work out in her favour. This troubled Raheela and decided to be her person.

Trust is relationships tricky. There are highs and lows that we as individuals must be aware of and foster mindfulness through these testing times. 
Sometimes we have people who guide us through these phases and mostly it is just an aspect we harshly learn with time.

On transitioning to college Raheela developed the first showers of summer love. A period that awakens the fine line between hellos and goodbyes!

"I liked somebody who was my best friend and we each other growing up. It's almost a decade or more of a bond. I told him my feelings and we started dating. While these memories delved deep into me and kept me happy, I was not aware of what was going to follow." 

She explained that every time there would be a conversation about how are they going to make this work he would shy away from speaking about it.
Raheela and her boyfriend were from different castes and there is a very minimal possibility for the families to agree. This worried her too much and made efforts to confront the elephant n the room.

She spoke of instances of anxiety and panic episodes while all of this happened. 
"I would often have sweated in the palm with a sudden heartbeat increase. I feared this phase and it would send me into a spiral of negative thinking."
While everything was good and fun in the beginning as things progressed she would feel very directionless and helpless.
"When I asked my friends about this, they would say that I am overthinking this. On the other side, he would just keep shying away from this question, this felt like a cycle approaching a castle built on sand: Blurry and Fading as I got close."
It was around this time Raheela's college announced their partnership with YourDOST as the official mental health partner and she decided to come to seek counseling.
She met her counselor Ms. Sheetal Rajput and was able to open up about everything with her counselor. This helped her feel better. Raheela decided to confront him and gave an ultimatum to decide what is going to happen with this relationship or to go ahead and break up.
"We started fighting a lot every time I spoke to him about this and I decided to take the decision the hard way. It was not easy at all.
He was not ready to leave his family or speak to them about us."

Raheela was heartbroken and she needed a person to share her feelings and Ms. Sheetal was that person.
"It took me 1.5 years and I am gradually progressing as a person. All of this was possible because of the realistic approaches my counselor taught me."
Raheela's change did take some time but she is surely in a better place now comparatively.
Her relationships have flourished and it was because she took that brave decision to face her fears with this relationship.
Additionally, her counselor also suggested a few techniques where she spoke to her about being productive and not being idle. She also motivated her to stay active and engage in some form of physical activity consistently.
The circle of control and concern activity helped her understand her strengths and her shortcomings.
"We are friends who share a good bond right now. There is no bad blood or hatred. I was questioning myself and thought somebody manipulated me. It left me feeling distressed. I am so happy that took this step even though it was painful."
Confronting him made her have mixed feelings as she did not like what was happening but Raheela also elucidates that all of this credit goes to her counselor for being that vehicle she needed to ride into the real world and not a castle made of sand.
"My overthinking stopped and there was a massive perspective change that happened. It felt like I woke up from a bad dream."

While sunsets are the perfect example that endings can be beautiful, this is yet again proved in this impactful story of Raheelas'. She has been there and survived through it, proudly, confidently and courageously.

In terms of feeling better on a scale of 1 to 5 post her sessions Raheela rated herself with a 3.5 and we wish her all success.
---
Raheela's Warrior Tips:
1."Stressful incidents are part of life and one should go through the issues rather than avoid them."
2."Take things one at a time and easy, a few years down the road, maybe you will stop and laugh at those moments."