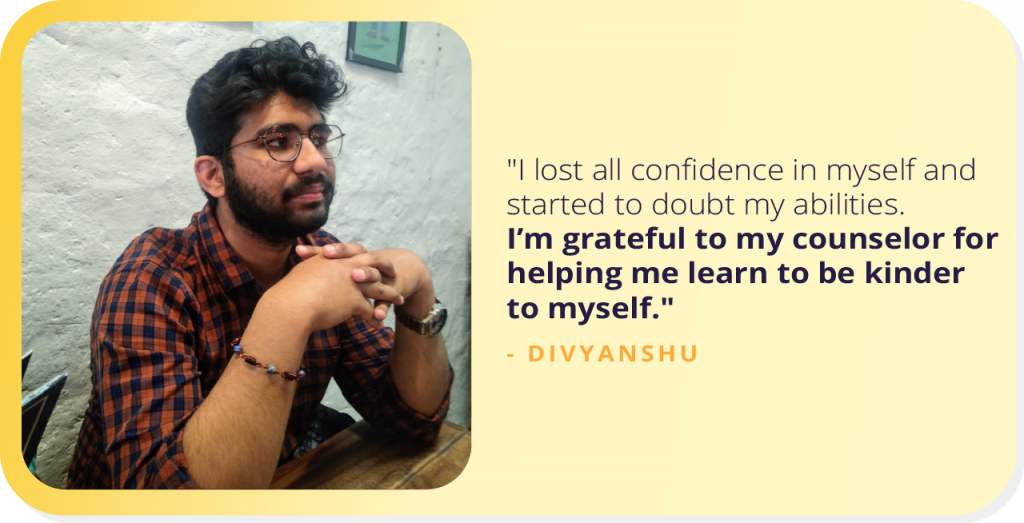 "Owning our story and loving ourselves through that process is the bravest thing that we'll ever do." -Brené Brown
From Delhi, a city that has a perfect blend of modernity and tradition comes the warrior of our story. Divyanshu is a young, bright 22-year-old individual who is currently pursuing his Bachelor's degree from the National Institute Of Design, Assam.
Throughout his entire school life, Divyanshu has been passionate about arts and crafts. He loved to take part in inter-school art competitions and it is this love for art that pushed him towards design as a career.
"I wanted to find a way to turn my passion into my career. At first, my parents were not on board with the idea but slowly over time, they began to understand and support my decision."

Our college years are a rollercoaster ride of emotions. The journey we go through during these crucial years has the power to test us right to our limits.
Divyanshu mentions that he had a very difficult time during his internship while he was in college. He found that he didn't seem to fit in very well with the people there, and it stunted his self-confidence.

Once we start to doubt ourselves, it's very easy to get lost in that spiral. Divyanshu began to doubt his abilities and talents and felt he was not good enough.
"I knew this was a problem that I couldn't solve on my own. That's why I thought it might be better for me to seek professional help."
Divyanshu found out that YourDOST had a partnership with his university, so he decided to give counseling a shot and booked his first session.
For centuries, the topic of mental health has been associated with a lot of stereotypes. Deciding to seek professional help is one that requires courage and determination. This is exactly the approach that Divyanshu had when he decided to begin his journey in therapy.
"My counselor, Ms. Samiksha, is extremely empathetic and patient. She made me feel so seen and heard every time I opened up about something personal."

It was his counselor, Ms. Samiksha, who guided him through this journey from self-doubt to self-love. As Divyanshu continued to work on his relationship with himself, he noticed that this self-doubt started to disappear.
As artists, we tend to be our worst critics. We start to focus on what we lack and we constantly feel as though we're not good enough.
However, there is no such thing as perfection, only progress. Divyanshu started to navigate his life through this lens and ever since he has not looked back.
"My counselor gave me very helpful techniques to deal with my anxiety and overthinking patterns. It is with her help that I now feel more stable and confident in myself."
Greg Kincaid once said "No matter how much falls on us, we keep ploughing ahead. That's the only way to keep the roads clear."
Divyanshu's strength and perseverance drive him on this road toward self-confidence. When asked, he said he rates himself a solid 4 out of 5 in terms of feeling better. We are beyond inspired by him, and we wish him all the best for the rest of his journey!
Divyanshu's Warrior Tips:
1."You're never alone. There will always be someone to help share your burdens."
2."There is strength in asking for help when you need it. Besides, it will only make your life richer and more beautiful"