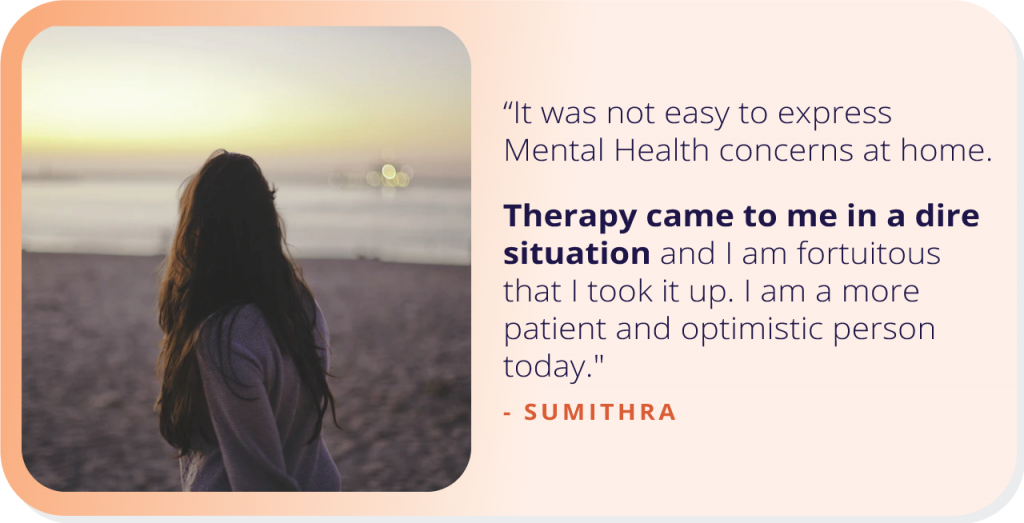 T.W. – Mention of Suicidal Tendencies
Home has multiple definitions, and it is a feeling that is personal to everybody. Sumithra is a courageous 22-year-old born & brought up in Delhi, and she believes her home here to be her comfortable place. 
The bustling avenues, grandeur in architecture, food that keeps you wanting more, a fast-paced lifestyle, and fashion spotted in almost every part of this city stand out about Delhi.
Sumithra completed her graduation from the prestigious institute of Shri Ram College of Commerce with a Bachelor in Honors degree and established her career as a spirited Consultant in an Ed-Tech company over the last year and has been thriving in her professional space.
Our access to resources brings out the hues of our creativity and especially with hobbies. Sumithra is a voracious reader who enjoys her own company.
"I have always wondered what it means when people say they are animal lovers. I mostly felt that it was a mere social media label. But, for me, it has more to it. I believe love to be a four-legged word, and decided to establish an NGO (informal) which takes care of stray dogs." 

Sumithra articulates how it enabled her to connect with another captivating side of the world. She illustrates that she was never afraid of dogs and her first friend in college was a dog, and she has become very comfortable around dogs.
As we grow, our bonds with people change including our family, and it was a similar case with Sumithra.
"I live with my parents, younger brother, and my grandmother. My mother is a homemaker, and my father is a businessman. My relationship with my parents is neutral, like any other Indian family. However, it has been difficult to share a bond with them in the last 3-4 years, as there have been a lot of ideological gaps."
Mental Health and the discussions around it are still a hush or an under-the-carpet affair for multiple communities. Sumithra mentions that her cousin and his difficulty with paranoia was a stressful phase, for her family.
"These were truly testing times, and we had to support each other mentally. I am extremely happy that he is doing much better now, post his medications."  
It is quite a miracle at times how help knocks on our doors during dire situations like these. Towards the end of all, what matters is how we gracefully accept it and gain support when it comes our way, and Sumithra did something very similar.
Sumithra describes that through her college and its extended partnership with YourDOST she utilised the best of counseling services.
"I was an introvert in college, and during my orientation, I was introduced, to YourDOST. Being a person who was aware of the fact that taking care of our mental health was important. I contented myself to reach out."

Sumithra mentions that she got exposed to stereotypes concerning Mental Health. As days would come, finding her anchor became almost impossible. No one in her family would converse about mental health in spite of having a history of it.
Relationships evolve with time, and it was a similar narrative to Sumithra. Situating her identity did have a few hurdles, but she managed to emerge as a gorgeous young woman who prioritised her career over everything.
"Majorly because of the growing anxiety that comes with work, I often felt out of place before working. I had to undergo instances of panic attacks that resulted in self-esteem, and body image issues." 
All of these are segmented into suicidal tendencies. Having been dealing with this for quite some time (5.5-6 years).
It is funny how love comes our way! It lifts some and betrays some. However, all of this is a life lesson at the end of the day.
"I developed a romantic relationship with somebody of my gender but later realised that she was dating somebody else, and it was a heartbreaking incident." 
As Dumbledore puts it:
"Oh! to be young and feel love's keen sting." 

It was around this time did Sumithra decide to book her first session with her counselor Ms. Ramitha Ramesh. Sumithra narrated her sessions with her counselor to be her venting space.
"She was awesome, I worked with her for 10 months and enjoyed speaking to her almost every day. It did take me a while to trust her. Ms Ramitha acknowledged my feelings and told me that I am not alone in this journey, and that felt lifting." 
The process was tough but Sumithra managed to walk through it with less damage. She had her counselor around, who enlightened her with practical techniques like focusing on breathing, mindful exercise and practising mindfulness.
"I felt safe as she always said we over me. This affirmation helped me understand that I had a pillar of support, and helped me feel empowered. Thank you for not giving up on me."
Sumithra describes that her friends did help her understand concepts of mental health and were open to communicating about these things. She is glad that she found these people.
Her duration with therapy helped her be open to these experiences and stay patient with herself and highlighted how progress does not have a timeline. 

"It's true, recovery is not a straight line, and it's very personal for everybody. It may take time, but eventually, you'll start trusting yourself with time, and that is extremely beautiful and an empowering feeling that I shall always cherish." 
Initially, she was aware that people face mental health issues, but post all these learnings alongside her counselor. she had a more informed opinion, and we are proud of her.
"I realised that mental health and its conversation were normal, just like how we fall sick or have a fever, and it is okay to talk about it and seek help."
Her definition of improvement is to be steady, and we second her on that as she has been a raring champion who gave her mental health adequate time and feels that therapy is a safe space and a non-judgemental area for Sumithra.
Mark Twain once said, "The secret to making progress is to get started." Sumithra is already on her quest, and we can't wait to see her get there.
On a scale of 1 to 5 in terms of feeling better, Sumithra gave herself a 3 on 5. We wish her all the more success with everything she does.
Sumithra's Warrior Tips:
1. You don't have to do this by yourself as help is always available to those who ask.
2. Therapy can take time to resonate with each of us at different periods. Remember, all that matters at the end of the day is the effort we as individuals put in.