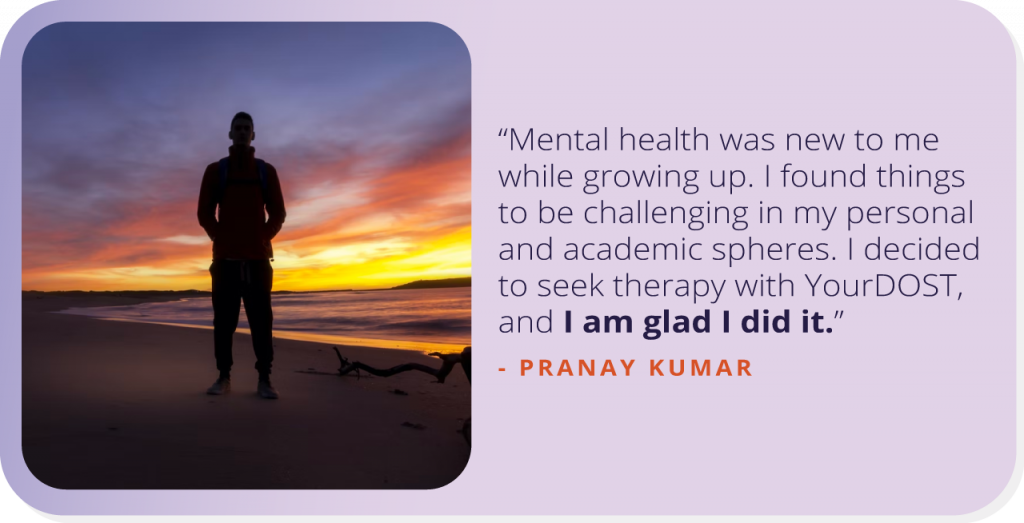 The role education plays in our lives is how we mould ourselves with the wisdom we get blessed with, and this is the enticing tale of our warrior Pranay Kumar.
Pranay is a 25-year-old M.Tech student from IIT Roorkee and was born in Bihar, the city that sits at the border of the Ganges river and is a pilgrimage site for multiple religious and spiritual followers.
He belongs to a family of 4 with his mother, father and sister. He dwelled with them till his 9th grade and moved out for his higher studies at IIT Roorkee. He is grounded professionally as a Manager at Axis Bank. Pranay's favourite activities are Tennis and Cycling, and he is trying to be consistent in spending time doing these activities.
Growing up is a voyage of self-discovery. It is a span where we get oriented with a myriad of emotions. This phase is beautiful and tricky in its ways.
"I recall growing up to be hard on me, as I am an introvert. It took me time to relate with my parents, and our relationship is still fragmented."
Pranay describes how being an introvert was hardly welcomed by people he was around. It resulted in his confidence levels dropping, along with finding it difficult to communicate with people, as he was afraid of being judged.

"I was keen on fixing this about myself and becoming more patient as a person. It was around this time my college partnered with YourDOST, and I came across their service. I decided to give it a shot."
Pranay articulates how his BMI levels were high and he suffered from body image issues. This hampered his self-esteem in multiple places and left him stressed most of the time. We indeed live in a world of judgments, and Pranay was caught up in this ruse and wished things were different for him.
"I was at the lowest point of my life when I decided to come forward and seek help. I am glad I met my counselor's and found my haven to discuss my feelings and felt comfortable being myself."
Vulnerabilities are beautiful when we identify them we become more conscious of our needs and thoughts. Pranay narrates how he attained this state of mind after taking up sessions with Ms. Sudha and Mr. Naveen despite being encapsulated in academic pressure.
"I consider myself blessed to cross paths with my counselor Ms. Sudha. She helped me through all my issues as I had relationship issues, and she helped me through them. I dealt with social media addiction, and she spoke to me about ways to handle it better. She was there through it all, like a best friend."
Pranay started preparing for his GATE exams, and the exam pressure started getting to him slowly. He mentioned how the fear of cracking the exam was too much and had self-doubts.
"Therapy and its notions are still difficult for people to understand and comprehend. I have not mentioned to anybody that I am seeking help, as I was worried about being judged, and it was quite challenging."
Pranay narrates how just before the exam he was extremely underconfident and remembers seeking a session. It was unfortunate for him as he was not able to crack the exam with everything going on for him.
"It was heartbreaking. I am not going to lie. But, this was all a learning as certain days are difficult, and the taste of failure always prepares us to be stronger individuals. I am ready to face life again."
Resilience is what Pranay mastered, and tackled his problems head-on. This instilled in him immense courage and hope. The feeling of moving forward is always more optimistic than stagnant, and Pranay is that classic example.
"I can do this because I brought my counselor's words into action by sticking through the techniques she taught me. She suggested relaxing my body before sleeping as I had sleeping issues. My sleep is so much better now."

Life has its path to make people realise its beautiful side along with the learnings and memories it holds.
"The platform is quite helpful and helped me get to know myself better. I am free of apprehensions regarding my career and learned to believe in myself.
We asked Pranay what he wishes to let his counselor know as his words of gratitude, and he said "I would like to thank my counselor for helping me clear my mind and for all the advice and patience offered. "
Pranay's journey had its ordeals, and he dealt with them with a sign of courage like that of the lion king. He is a better version of himself today, and he rated himself with a 3.5 on a scale of 1 to 5 in terms of getting better.
Pranay's Warrior Tips:
1. The first step to counseling is to take that brave step of going ahead and accepting yourself by communicating it with your counselor
2. There is so much good in the world, and all it takes is a simple leap of faith to allow change to heal you from things that caused you pain.