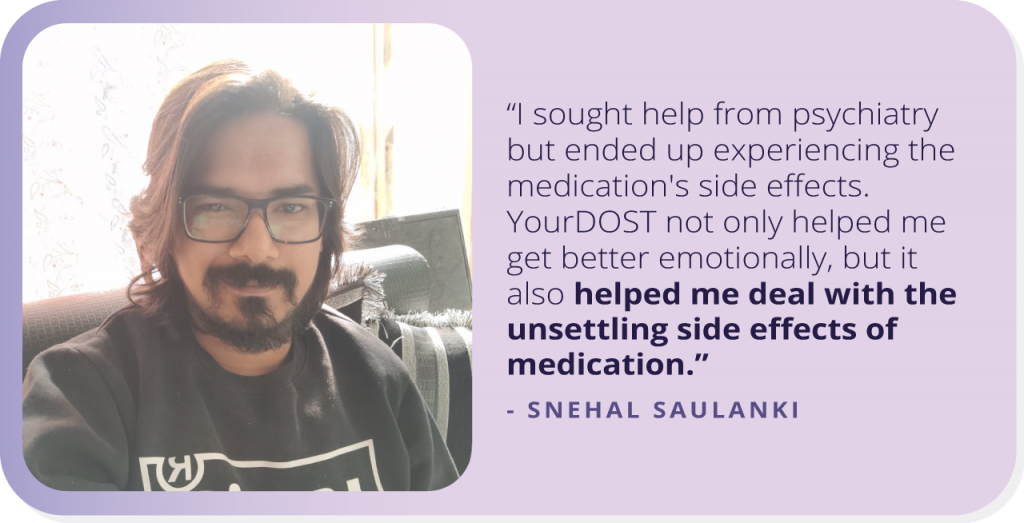 Living away from home in Bangalore, Snehal Saulanki, a 28-year-old Senior Product Designer at Ashv Finance, had a delightful upbringing. He got to spend it in the care of his grandmother, with whom he continues to share a beautiful bond. Snehal enjoys reading, watching movies, listening to music, and engaging in conversation with people in his leisure moments.
It has seldom been easy to live away from home. But a couple of years ago, things began to spiral out of his hand.
"Around January 2021, I was feeling down but for no particular reason and I faced concerns with my sleep too. I decided to seek help from a psychiatrist who diagnosed me with severe anxiety and depression."
When we experience psychological distress, we get a feeling that something is wrong, but it can be difficult to accept when we are diagnosed with a specific mental health concern. It wasn't easy for Snehal too but he persisted and made the decision to work on it.

"The psychiatrist suggested that I go through Cognitive Behavioural Therapy and also prescribed certain medications which I followed through. But the side effects of the medications were getting too much. I had temperament issues, I used to be irritated most of the time. This is when I decided to stop relying on medications."
Fighting the withdrawal of psychiatric medications can be pretty tough. With the will to overcome his withdrawal, he started to look for alternatives that can help him with his complete mental health. He found out that his company had partnered with YourDOST for mental and emotional wellness. This is when Snehal decided to seek psychological help via YourDOST.
"After a few trials and errors, I found Ms. Ishita Attarey on the platform as my therapist and I couldn't have asked for someone better. Talking to her was very soothing. I decided on the first session itself that I will be coming back until I am back to my happier self."

Ms. Ishita understood Snehal and helped him with breathing exercises, muscle body relaxation exercises and mindfulness techniques. She encouraged him to be aware of his thoughts and actions.
"I could perform up to 80% of the exercises and tasks assigned to me by Ishita. and I saw remarkable results. Not only did I notice the new me but so did my friends. I was calmer, I had my temperament issues under control and I couldn't have been more satisfied with the results."
Working hard for something and then witnessing the results can be immensely satisfying. It motivates you to work even harder and keep going. Fortunately, Snehal did not develop any unhealthy habits during his journey. But he did cherish this new version of himself, patient and peaceful. The change he noticed in himself made him feel powerful and delighted.

"To be completely honest, I was in a bit of a mess of misery and self-doubt before Ishita helped me. I'm genuinely grateful to YourDOST and Ishita."
Today, Snehal believes that healing is all about steady progress and on a scale of 1-5, he rates himself a whooping 4 in terms of getting better. And we cannot be happier about his progress.
Snehal mustered the courage to fight until he won the battle. And he was able to do so because he pushed himself and pursued help. Even though his first attempt at mental wellness was unsuccessful, he persisted. That is precisely what should inspire us to keep going until we have conquered our demons.

Snehal's Warrior Tips:
1. There are a lot of stigmas surrounding mental health but don't let them stop you from seeking help. Be vocal and give it a chance.
2. Do not be hesitant with therapy. If you feel you need help, get it. It is important.
3.Setbacks will always be there. However, it cannot be used as a justification to give up. Make sure you push through it.