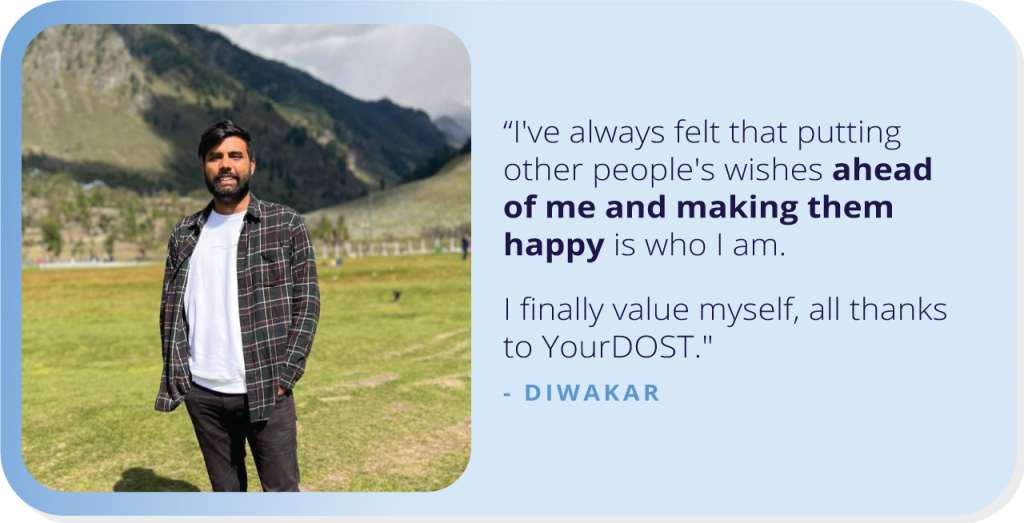 "It is never too late to be who you might have been"
~ George Elliot
A true bibliophile and a football fanatic, 24 years old Diwakar had been quite a good boy since childhood. Diwakar, who currently lives in Delhi but is originally from the city of Saharanpur, was born into a nuclear household with his parents and an older brother. Although close to his cousins and extended family, he enjoyed his entire formative years with his elder brother.
"Be it academics or life, I've been the kid who always listens to their parents. They wanted me to pursue engineering and I did so. Worked hard, even dropped a year post my +2 to prepare and I was able to crack IIT Delhi, my family was very proud"
Someone who embraced whatever was asked of him while putting his preferences aside, isn't that extremely adorable? It feels good to make people happy by doing the things they want, but sometimes we just expect to do what we desire. Yet we rarely have the strength to change the entire personality that we have ripened over the years.
"I didn't think I had a problem to deal with at first. This is always how I was. My brother has forever been a rebel, and there have been moments when I have felt the same way about doing what I want and not listening to others."
Diwakar thought that we should only seek therapy if we have a specific problem. Something that carries a medical diagnosis. This was a stigma he bore until he read 'Irvin D. Yalom's, Love's Executioner and Other Tales of Psychotherapy.' This prompted him to rethink his fundamental opinion.

He was concerned about his decision to study engineering after enrolling at IIT Delhi. He began to feel that engineering might not be for him. This is when one of his buddies advised him to seek counseling. Not for any particular purpose, but simply for self-improvement.
"Yalom's book had a significant influence on me, so when a friend advised that I seek counseling, I decided to go to YourDOST. They are associated with our institution for mental wellness, and my friend was impressed with their services as well."
Diwakar was aware that finding the ideal therapist would involve some trial and error. His friend recommended Ms. Madhura, but finding her availability was a bit tough. He nevertheless booked one of her slots, which was a month later. In the meantime, he attended some sessions to find the right counselor for him.
"I didn't have anybody to talk to during the lockdown. I was recently out of a breakup too. Although I was over it I had a lot of questions that I needed answers to. I had forgotten about the session I booked with Ms. Madhura but team YourDOST reached out."

Diwakar saw a glimmer of hope in Ms. Madhura when life started to get gloomier for him. He felt an immediate connection with her and thought she was similar to Yalom and that she understood him. He finally found his ideal therapist.
"I decided to attend her sessions even though they were a month apart. I admired the one-of-a-kind relationship I had with my counselor. After my session with her, I gained the confidence to continue therapy."
Ms. Madhura told Diwakar to think whatever comes to his mind. Be it negative or positive but in the end, to question himself and what he wants. Finally, with various exercises and techniques, she helped Diwakar untangle his true self.
He started valuing his needs and also spoke up for them. He found answers to a lot of things that he was clueless about. Finally building the boundaries that he always envisioned and learnt to say 'No.' He made friends with engineering and completed his course at IIT Delhi with flying colors.

Sometimes there are no flaws to deal with. Or maybe we haven't found them yet. But Diwakar proved that working on yourself is always worthwhile. Now that he discovered how vast the wellness spectrum is, he feels that he still has a long path to go. He rates himself a 4/5 on the scale of getting better and continues working on himself.
Diwakar's Warrior Tips:
1. You might not even realise that you need therapy. Try it once, maybe just for self-improvement. But it'll change your life.
2. Being a people-pleasing person is not wrong. But understand your value. Nobody's wishes come before yours. You do not need to suffer because you want someone else to be happy.
3.Learn to say no. Build healthy boundaries. If you cannot yourself, seek help