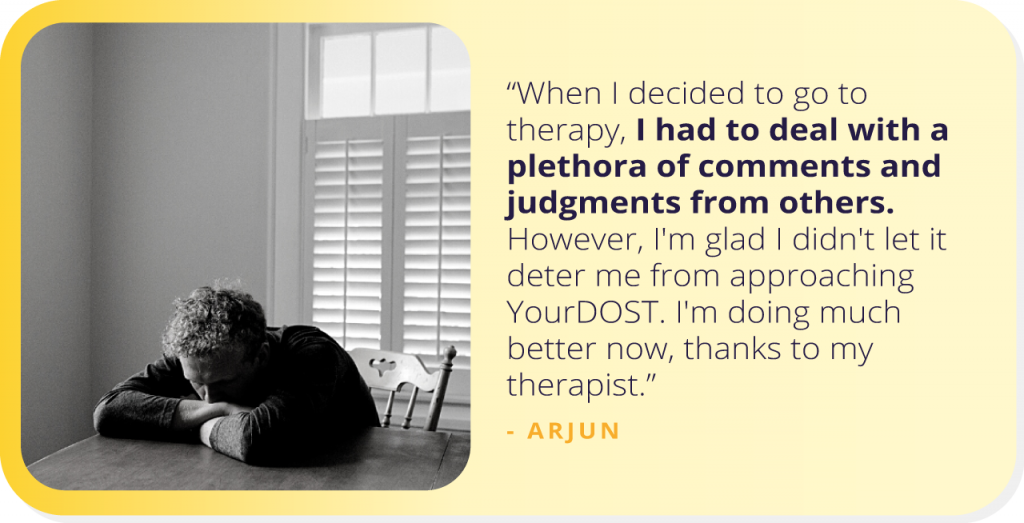 Arjun, a 30 years old 3D designer from Bangalore, is a mellow and honest artist. He relishes many hobbies, including penning short stories, reading, watching movies, listening to psychology-related podcasts, etc. A liberated soul who not only appreciates psychology but also believes in the approach to mental well-being.
Recalling his childhood, he mentions that it is a myriad cluster of memories. Arjun shares a lovely bond with his sister but carries specific unpleasant memories of his early years, resulting in emotional heft.

"I either trusted people too much or not enough. This pattern was evident in many of my previous relationships and friendships."
As Frank Sonnenberg said, "Trust is like blood pressure. It's silent, vital to good health, and if abused it can be deadly." However, there was a reason behind Arjun's trust issues. He grew up watching his parents fight a lot. Even though his family has become closer in recent years, the relics of the past continued to plague his present bonds.
The past continued to adversely affect him to this day, interfering with his ability to have a successful career and a fulfilling relationship. This realisation drove Arjun to finally seek help through YourDOST. 
"A lot has been happening. My issues with trust were there but additionally, a slew of trivial events led me to understand the need for therapy."
While Arjun went through the distress, he started building walls around himself. He got constant flashbacks of a traumatic family incident that happened sometime back and he finally took the step.


"I was aware that my company was associated with YourDOST. My sister and girlfriend both encouraged me to seek therapy. Since I was already interested in psychology, I didn't mind giving it a try but my trust issues kicked in"
Having a supportive partner and sibling is nothing less than a boon. Therapy is a personal choice but getting this support keeps us going.
Thanks to the ladies, Arjun fought the stigmas and sought help. Arjun's partner, who had been receiving therapy for a while, ensured he didn't back down if the first few sessions weren't great.
And finally, after the initial trial and error sessions, Arjun met Ms. Dhrashti Gada and at last felt at ease with the therapy.
"Ms. Dhrashti's availability was mostly around late at night which perfectly worked for me. She was very patient and listened to what I had to say. While I was facing the crisis, I shut myself down. She delicately handled the situation and helped me open up."
The key to healing is discovering the ideal therapist. When we say perfect, we don't always mean in terms of techniques or degrees. Even if they are a fantastic therapist, they might not click with us. It all comes down to the bond we have with our counselor.
Arjun underwent a number of grounding exercises and was able to follow most of them. Soon he started to notice the changes in himself.
"I am able to reflect on myself before reacting to a situation and I believe that helps a lot. I am also expressive about my feelings and emotions. I've started journaling too."

When things in our lives go wrong, we begin to start believing that the world is ending. But then we see a glimmer of hope, and we are offered a choice. Either we head in the direction of the light or else we continue to wait for a miracle. Choose to walk as Arjun did. Work on your problems and persevere.
As an expression of gratitude Arjun says, "Thank you for creating a safe and a non – judgemental space."
Arjun reckons that things are getting better and considers bias-free companionship the best part of therapy. He rated himself 4 out of 5 in terms of improvement and has not stopped working on himself.

Arjun's Warrior Tips:
1. If you are unable to figure things out on your own. It is perfectly acceptable to ask for help. It may not work out the first few times, but you will eventually figure out what works best for you.
2. Therapy might not be for everyone, but it can help. Showing up to your first therapy session is the hardest part of the journey. Don't let the stigma or fear hold you back. Give it a shot and keep an open mind.