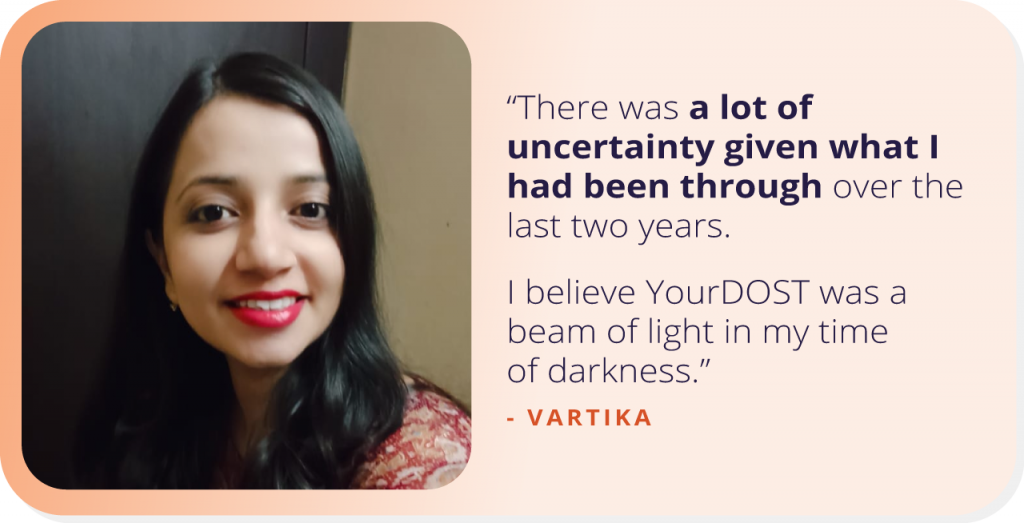 Vartika, a specialist at Gartner, defied all generational barriers and became the first woman in her family to live independently. From thriving in her academics to always achieving heights, she aced it all. Vartika believes, with the way the world is going, women need to be independent. She likes to read, and paint, and has also been travelling across new places. But not everything was going well for our superwoman.
The pandemic had been one of the biggest challenges for mankind. The uncertainty gave rise to anxiety among most of us. The shortage of resources and the helplessness when it comes to saving our loved ones certainly played a role in prevalent emotional distress.
However, amid everything, there were a bunch of folks who went unnoticed – The students. Most of them couldn't figure out their feelings and what they can do to address them.
"I was in my final year of college. That should be a time for people to focus on their careers and look for jobs but instead, my campus was shut down. We didn't even have a farewell. It just ended one day, and we didn't get a chance to say goodbye to our friends too."
Within a couple of months, her life had completely changed. Vartika didn't have time to process anything because it all happened so hastily. She had broken her foot, and there was also a lot going on that pushed her towards overthinking and anxiety. Being confined to her home for so long took a toll on her.


"I was mostly anxious. I was worried about everything that was going on at the time. I didn't want to talk to a friend because I feel a bias rises when we talk to someone in our circle"
This is when Vartika decided to give therapy a chance. She made the choice to access YourDOST services and got in touch with her counsellor Kailash Panwar.
"I have always been very open about taking help and talking to a professional as your friends will not be able to solve all of your problems."
Vartika's responsibilities were a major contributor to her overthinking during uncertain times. She felt a lot of pressure trying to balance being a caregiver for her family and working from home.

However, her therapist was able to grasp her fears and suggested therapeutic options that Vartika could adopt. The most unique of them all were some questions Kailash put to her. He asked Vartika to answer these questions to challenge her negative thoughts whenever she needed to calm herself down or gain some perspective.
She religiously followed all the suggestions Kailash proposed and had a session almost every week.
"He once advised me to try sleeping more and getting a full night's sleep. One of the positive changes I noticed was prioritising my sleep."
Vartika learnt how to face things as they come rather than fighting them in her head. This made her less anxious about the future and helped her relax and heal. She is grateful to her counsellor today for being patient with her, understanding her, and always providing her with clarity.

"I think YourDOST is a great platform providing a very important service. And making it a bit more accessible, because most people don't know where to go or what to do when they have such problems."
She rated herself 4.5 out of 5 in terms of getting better and she believes healing is a gradual process.
It is never easy to fight our own thoughts. Always remember that several people out there are fighting the same battle as you. You're not alone.
Vartika's Warrior Tips:
1.Speak up and seek help because keeping it to yourself won't help.
2.You may find some relief from anxiety by simply voicing your thoughts.
3.Overthinking is difficult to turn off, but it is possible if we enhance resilience.