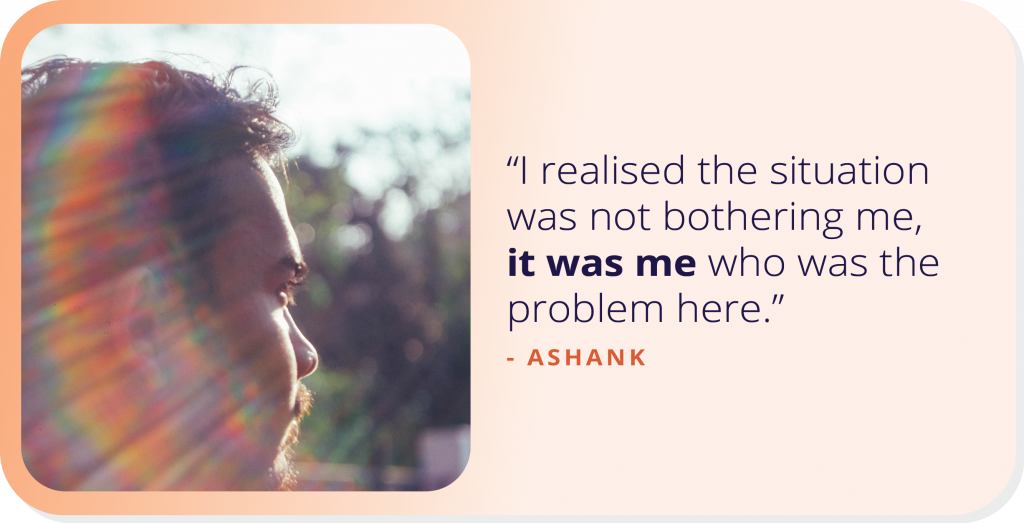 Ashank is a young 26-yr-old man belonging to a town called Sagar in Madhya Pradesh, where he stays with his younger sister and parents. He has completed his graduation in BTech from Delhi and is currently pursuing his MTech from IIT Delhi.
He particularly enjoys spending time with nature, taking walks in the greenery, and also immerses himself in reading books on spirituality and psychology. Practising yoga and meditation are additional activities that he follows regularly in his regimen. 
Otherwise a very calm and composed person and very well-versed in the Vedas and the concept of the body, mind and self. 
However, his anxiety began coming in the way of unlocking his true potential in his day-to-day functioning and this bothered him a lot. 
"Stepping out to buy milk or to go to shops to get something was getting exhausting for me. I was also in between changing jobs at a time and that's when my anxiety soared. I would often feel my heart rate increasing and lots of sweating after that."
Ashank recalls that these physical sensations were the aftermath of his anxiety episode and had been prevalent from his childhood days. When he was a child he could not recognise these signs but as he grew he realised that it is a profound problem. 
Social settings where he would have to introduce himself in a classroom or answer questions related to his subject in school were terrifying and he would often find ways to avoid them. In such times, his heart rate would increase and his brain would turn foggy, pushing him to turn numb or blank in the situation. 
He started withdrawing from social interactions and only stepped out when there was no other alternative to the situation or wherever it was a necessity. His anxiety haunted him to think clearly and make correct decisions for himself.
"I recognised these indicators and came to an understanding that I was suffering like this for no reason. I needed an escape. I needed to become better at who I was."
Ashank reached out to YourDOST through IIT Delhi's association with the platform. 
He had experienced a few counseling sessions before coming to YourDOST and so he was not stigmatised towards the process of therapy and counseling.
Keeping an open mind and a fresh slate, Ashank started his first session with YourDOST with complete transparency and a strong will to improve himself for a better future.
Poulomi and Shilpa were his counselors who helped him to discover his origin of anxiety and all his triggers. 
Poulomi was following the regular flow of conversation, one which I had been in with my previous counselor. But with Shilpa the approach was a little more organised and strict."
Shortly after Poulomi left the platform, Ashank was connected with Shilpa. He predicted the general flow of his sessions but took them more seriously because of Shilpa. 

A number of techniques and activities were recommended to him. These included the JPMR technique for his physical sensations, breathing techniques to ease his anxiety and filling in customised response sheets to monitor his reactions in various situations.
She was dedicated to following up on his progress and how doing those activities made him feel or if he was practising them regularly or not. 
Apart from the above-mentioned techniques, Ashank personally got introduced me to the world of spirituality and psychology. Reading books on the said topics gave him a better insight into the human mind and body, and a higher level of understanding of human emotions. 
This was a true turning point in his life.
"Along with my counselor, we were able to figure out the root cause of my problems, which was my ego."
Pondering over his problems and trying out different techniques to calm the storm within, Ashank and his counselor unlocked the most treasured answer to his issue.
Ego. His ego was the result of his physical sensations. The way he perceived himself in the eyes of others was in a negative light and this bothered him every time he found himself amongst people. 
Understanding the dynamics of his ego, he was able to grasp control of it which led to positive changes in himself. He was able to control his heart rate and started feeling much more relaxed. 
"There were times when I wanted to talk to my counselor immediately, but now I am able to control that urge and not completely depend on her. I am so thankful that she is a part of my life. She is an absolutely amazing therapist."
Ashank holds out immense respect and admiration for all the people working in the health industry and mostly mental health professionals. His will to improve and his counselor's promptness kept him going.
Today he is ready to go out and enter new social gatherings. He feels much more confident about interacting with people and being in unfamiliar places. 

He rated himself 3.5 out of 5 in terms of getting better as he believes it is a long process and he is going to be on this journey until the very end.
He is confident. He is poised. He is Ashank who we are super proud of.
Ashnak's Warrior Tips:
1."Nobody is flawless and doing something awesome 24/7. Everybody has their own share of problems. Don't deem your problems small."
2."If you can get to the root cause of your problem then you can choose to soothe your suffering."
3."Why hesitate to consult a professional for your mental health issues? Try counseling out of curiosity and see who you truly are as a person."