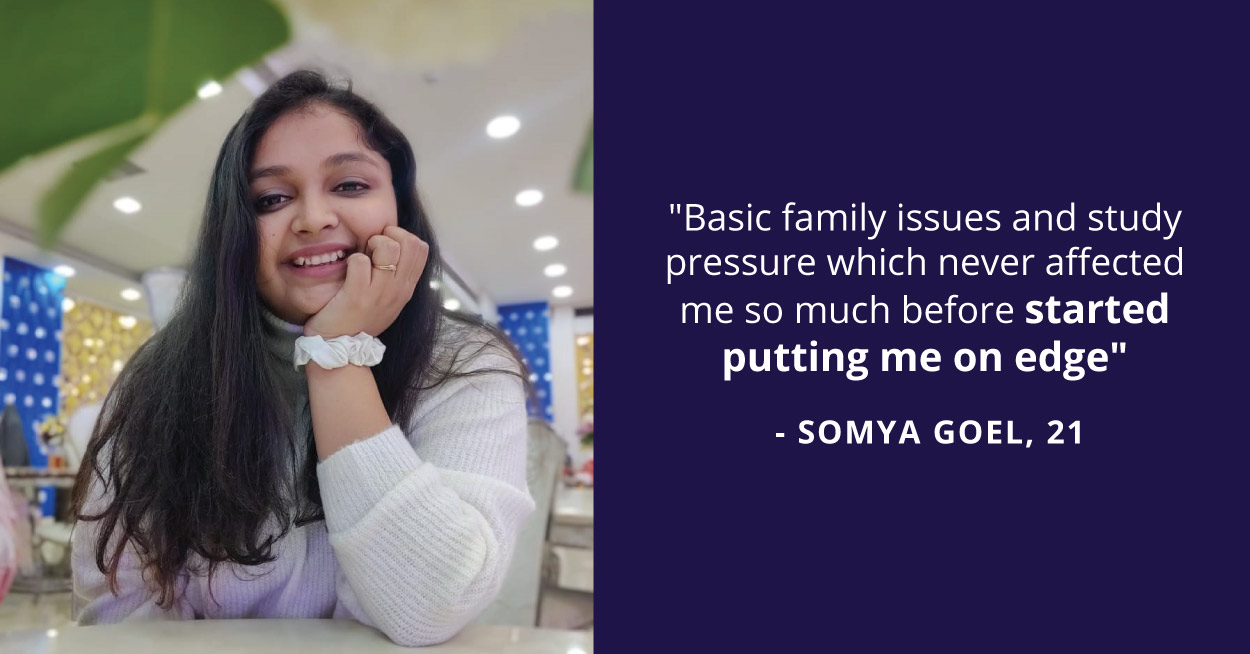 Confident, practical, kind, students' body vice president and a law student at Bennett University, Somya Goel, 21, had everything in life near perfection. But when the 2020 lockdown happened, she found a side of hers that didn't fit well with the situation. 
"I'm a person who loves exploring, so sitting in one place for a very long time wasn't my thing."
Right from her undergrad days at Delhi University, Somya as the president of her department had been a part of many mental health based events and there was one thing that always got her wondering –
"When I was a part of NSS (National Service Scheme) at DU, there were times when I'd come across people's concerns and think, hey, this happens with me too. Why is it that I've never thought of seeking counselling whereas they have?"
And when she was introduced to YourDOST at Bennett University, listening to the orientation behind her screen, she knew that she was going to need therapy as lockdown impacts had started to creep into her routine.
During lockdown when I was confined to my room, I tried to do a lot of things. I tried to paint, cook, engage with all the VP commitments. Yet somehow, I couldn't divert my mind. I used to cry a lot.
At this time, Somya noticed a change that she had no answer to and absolutely disliked the phase her feelings were putting her into.
"Even if I'd get a chance to go out, I'd prefer to sit in my room and feel upset about not going out. Basic family issues and study pressure which never affected me so much before started putting me on edge." 
Under the roof of confinement, Somya also found herself in a loop where she would distract herself for some time and her problems would crawl back to her after a few weeks.
Somya also tried contacting her close friends but her thoughts restrained her from sharing concerns with them. Having known them for a long period of time, she felt that she knew the kind of response she'd get from them and that wouldn't be of much use.
"It's like when you've been with someone for a very long time, you know that particular person is going to say this particular thing on this particular issue. My friends are too connected to me and will see things from my eyes. They won't see things from a different perspective." 
That's when Somya realised that she'd prefer talking to someone who'd have a better knowledge about how she can deal with certain situations. Her counselling sessions slowly started helping her untie the knots.
I was overthinking a lot. I would have a lot on my mind, but while sharing I couldn't utter a word. So when I got an option to talk over voice call/messages/video call – I preferred talking over messages and I'm so glad that it helped me kick-start.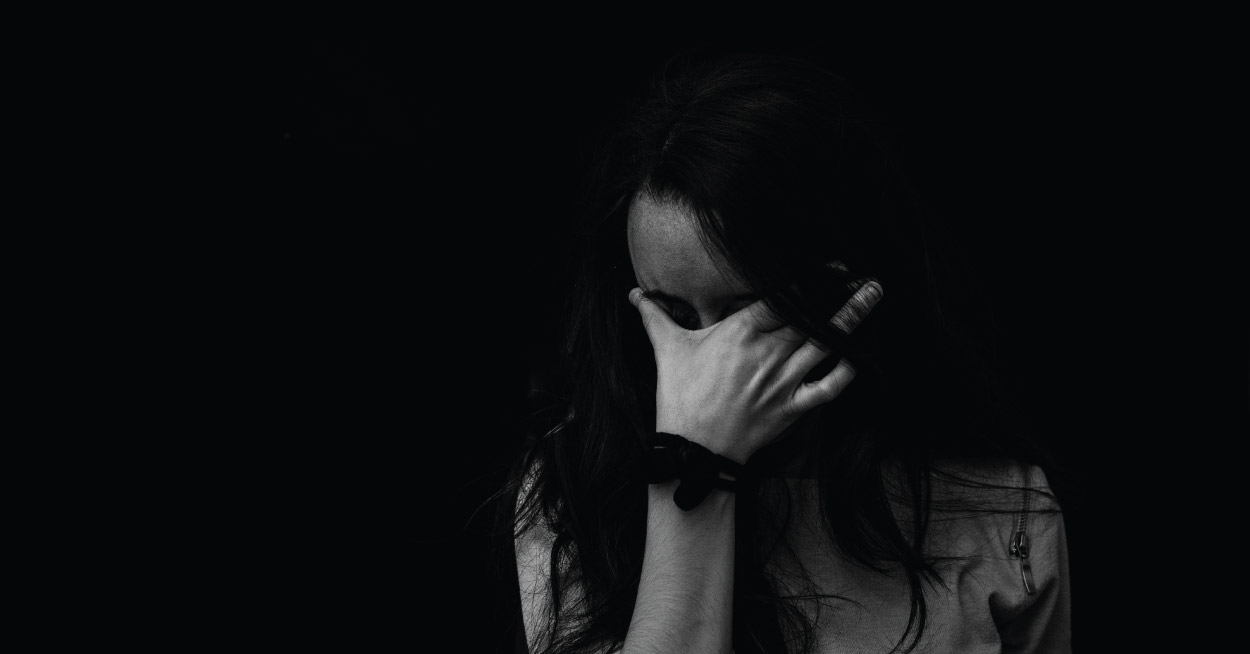 Together with her counsellor, Somya began to unwind her mind. The expert helped her realise that it was her negative approach towards things that had her over-analyzing everything and that she needs to start embracing positivity.
"My expert was very friendly, made me feel comfortable in just a few messages and the questions she asked were very open-ended, that gave me a lot of scope to talk. I got only a few messages from her and there were 50 messages of mine but those few of hers were very open-ended and more like you tell, I'm listening."
Now that Somya was on her way to self-reflection, she began with talking to herself about her problems and all the good things around her. This helped her accept her fears and speak out more openly.
"As suggested by my expert, I actually penned down my problems. I thought if not to someone else, then I should convey my problems at least to myself, to begin with. I felt much composed and positive."
While Somya was on her path to a better self, not only did she work on her problems but also encouraged two of her friends to seek counselling as they were going through similar issues.
"And those two, in turn, suggested two more of their relatives to consider seeking support. It was like we had started a chain reaction of change. "
One amazing technique that Somya adopted after her counselling sessions was to remind herself of all the good days she had in order to feel better whenever she felt blue.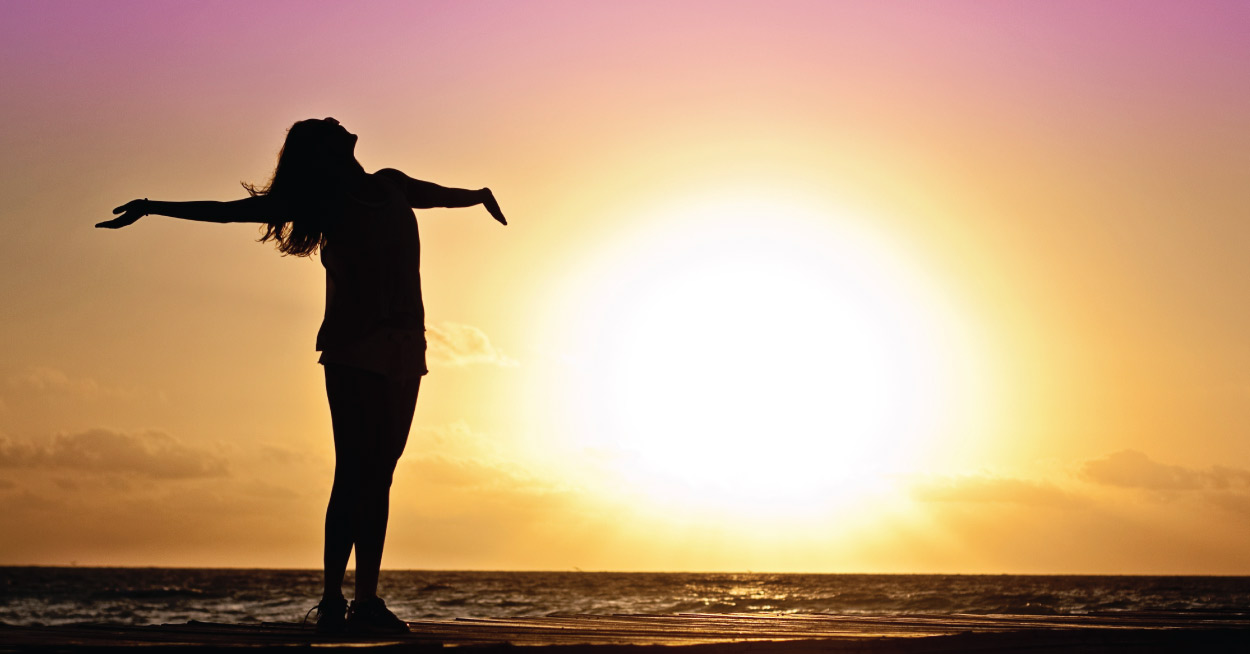 "I started putting a calendar next to my bed where I created 3 emojis for days- Green (Very Good), Orange (Good) and Yellow (Bad). Whenever my day went extremely good, it'd mark it on my calendar as Green. So whenever I was upset, I'd look at my calendar and think of all the Green and Orange days and that'd give me a positive boost."
Somya's dedication to move towards positivity has truly helped her shine brighter. She loves encouraging others and has one crucial advice for those who aren't sure of reaching out to counsellors despite their concerns – 
We can't blame people. We all grew up in Indian society with the fear of judgement but here's what matters – when it has become so convenient that you can sit in your room and talk to a counsellor online about your well-being, why not? No one will know that you've consulted a counsellor and that's the beauty of anonymity.
She believes that the major fear is not about opening up, the fear is about 'log kya kahenge' (what will people think) and when people can talk to a counsellor from the comfort of their home, no one will get to know and hence, who's to judge?
"YourDOST is the best thing that happened to me in 2020. I'm glad."
Are you someone who has gone through a difficult phase and emerged stronger and better, with some professional help? Share your story with us to encourage thousands of others who might be struggling. Click here to submit your story.
---
Somya's Warrior Tips:
1. Counselling is not a very big step. It's just a different step in terms of what you actually think
2. Take a minute, take a pause and think about yourself for 5 min and then think do you need it?
3. ounsellors are not ghosts. The way you'd talk to your people, talk to them in a similar way. Only here you'll get a different perspective, a long-term benefit.