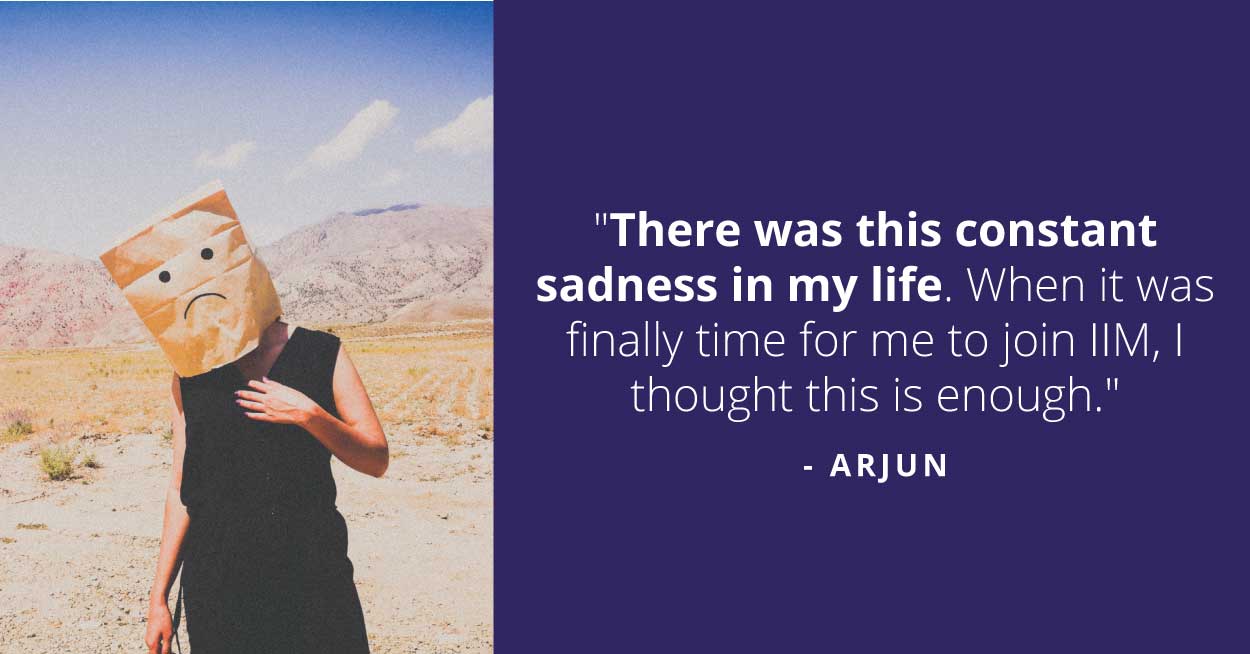 Arjun (Name Changed), who belongs to a small town in Madhya Pradesh, was always aware of things he wanted in life and an ideal career path was one of them. He completed his undergraduate study in engineering, worked for two to three years, cleared CAT (Common Admission Test) examination, cracked his interview at one of the prestigious IIMs and received an admit there.
But as life surprises us in odd ways, even Arjun didn't know how the impact of one past incident would start crawling into his thoughts and feelings. 
I had a serious encounter which made me very uncomfortable about myself. It impacted me a lot. I was a people's person but after the incident, I felt odd around people.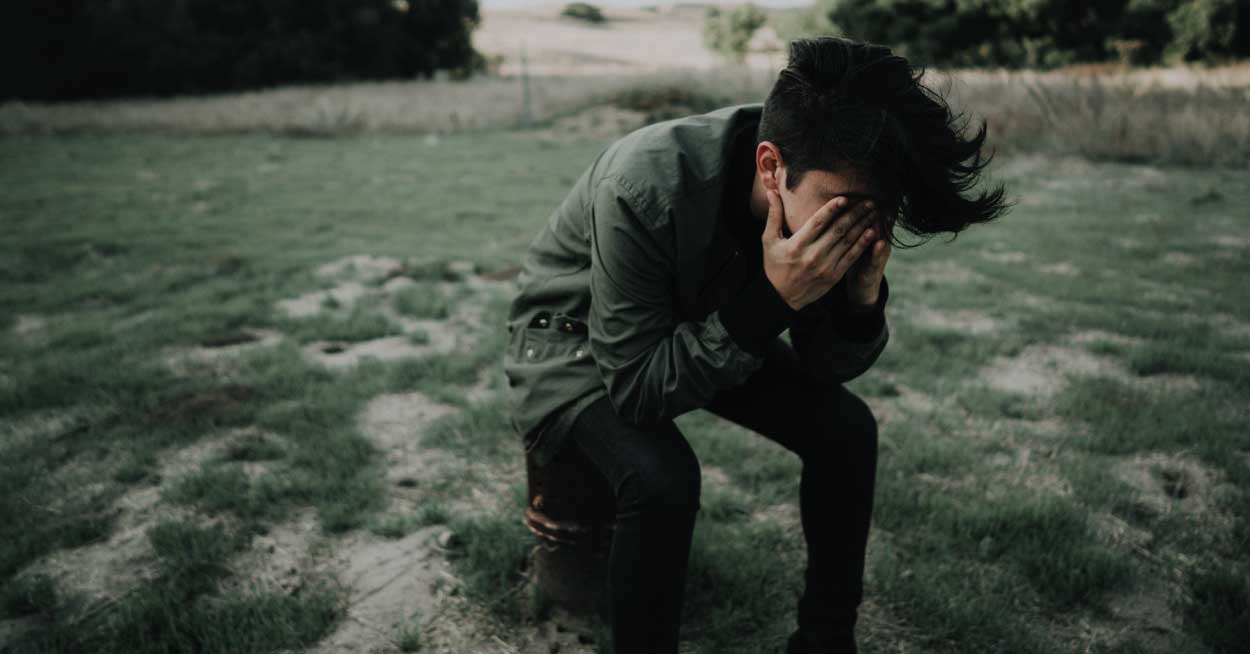 Sometimes, our journey can take an unexpected turn and change us completely. In a similar way, the incident left a dark imprint on Arjun's mind after which he felt a void in his life. He would try his best to fight with the changes that came along but they would only push himself further away from his true self. 
"I missed being who I was. I was very active during my college days. I'd participate in extracurricular activities, organise events. I was also into dramatics, used to go to the gym, and had bought myself a guitar. But afterwards, I just stopped everything."
A year after the incident, Arjun noticed that something was wrong. The things which seemed normal to him in the beginning and that he was able to overcome somehow, had now started bothering him. 
There was this constant sadness in my life. And when it was finally the time for me to join IIM, I thought this is enough. Before I start a new phase of my life, I should leave everything behind and try to move on.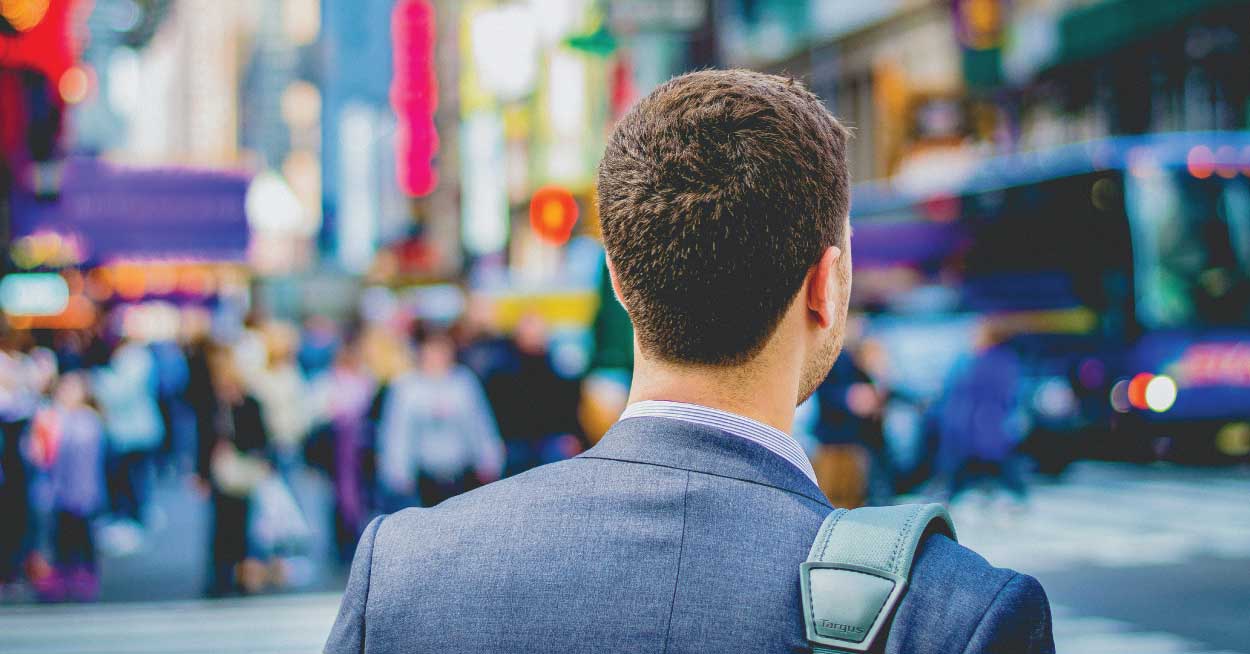 With this courageous thought, Arjun decided to connect with an expert on a health website. But the sessions didn't really go as he had expected. 
"I booked an appointment on the website but it wasn't of any help. It was a 1 hour session and I didn't like it. I couldn't connect with her on a personal level."
As Arjun strongly believes that a personal connection is a must when it comes to emotional concerns, he soon realised that it wasn't benefiting him. 
"If someone has a physical issue, it's still okay to not share a relationship with your specialist but when it's about your mental health, a person expects that he or she vibes with the expert and that for me was missing with the first expert through that health platform."
After this unforeseen experience, Arjun wasn't very sure if an expert consultation would actually be able to help him. He then decided to switch from his workplace to his home and that shift couldn't bring any positive change either.
Firstly, I can't express myself much at home and have to mostly stay silent. To add to this, my MBA program had also started. So there was a lot of stress altogether.
At home when Arjun was dealing with the stiff environment and the IIM academic pressure along with the constant sadness he carried due to his unfortunate life encounter, he felt overwhelmed. 
"It's like all my suppressed feelings came out to the surface, were poking me and I started getting negative thoughts. I then decided to give myself another chance by connecting with a YourDOST expert as they had partnered with our institute."
Arjun was once again on the path to finding the reason behind him feeling isolated, negative and restless. Only this time, he was able to share a good connection with the expert and seemed hopeful. 
"I connected with Abrar Raza. I told him that I want to feel better soon. He acknowledged my concern and said he's there to guide me to sort my issues. This gave me hope that things can improve, and that someone is there for me."
Arjun and Abrar would connect twice a week. Together, they'd explore and try to unearth the root cause of his problems. He poured his heart out in his sessions, starting with the unfortunate incident and the series of feelings that had chased him afterwards.
"Abrar was very empathetic and what touched me the most is that when I shared my story and asked him for extra care, he didn't hesitate and went out of the way to support me. I really liked this part of him. With his help, I could define my problems." 
Later when Arjun became occupied with the on and off preparations for his exams and interviews, he couldn't attend his counseling sessions with Arbar Raza regularly and decided to connect with another YourDOST counselor, Dr. Preethi Krishnan – his institute's visiting expert. 
"The pressure was real. I thought why not connect with my institute's expert once. Today I can say I have a belief that things can improve. I feel more confident than before. To be very honest, I also thought that I should share my story about how I went through the entire process of becoming my better version, how my life changed and here I am, sharing it with the world."
For Arjun, his interactions with the expert was more like self-introspection. As questions from the expert and responses from his side were exchanged, he started discovering his own self.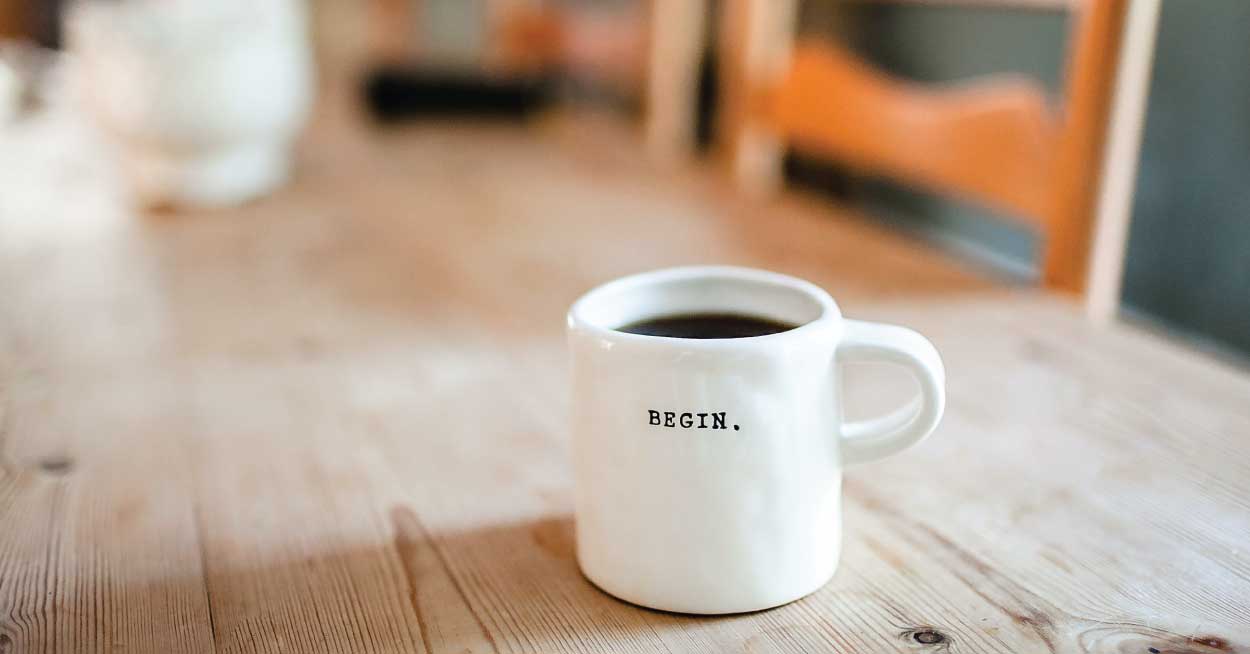 "It's very important to find the right expert and I found that in Dr. Preethi. Sometimes people try to put their thoughts in your mind but this was different. She suggested many action items which I follow till date."
Arjun's life-changing encounter and everything that followed, had created a spiral of negative thoughts in his mind. To overcome them, he started following his expert's suggestions. 
I started writing my negative thoughts down and practising a breathing exercise called PMR technique (Progressive Muscle Relaxation).
Our problems can be very tricky – they have a tendency to restrict our vision, vision to the brighter side, to the side that has hope and this is exactly what Arjun has to say to those going through tough times – 
"Stigma around mental health is here but it is not always stigma that holds one back from seeking support. When someone is going through an issue, that issue can put a blindfold on their mind wherein they are natural to think that nothing is going to work. This makes it hard for them to come out. They should know that it's okay and there are professionals to help them."
Are you someone who has gone through a difficult phase and emerged stronger and better, with some professional help? Share your story with us to encourage thousands of others who might be struggling. Click here to submit your story.
---
Arjun's Warrior Tips:
1. Nobody needs to suffer. The difficult place that you may be into right now is not your fault. Give yourself a chance, seek help and don't suffer alone
2. People consider seeking support as a weakness and that needs to change
3. Just how you change, things around you change too. Everything will be fine